No-Bake Peanut Butter Squares
These are amazing. I know I get excited about food, and especially desserts, but trust me, these are good. They're like Reese's peanut butter cups in bar form! I got the recipe from Mike's cousin Laura, who is an incredible baker. I was at her house one day and she pulled these cookies out of the refrigerator and said "Here, you have to try one of these." I took one (I don't often turn down desserts), thinking they looked kind of like a scotcharoo – you know, those rice krispie treat bars with chocolate on top? I took one bite and said "oh my gosh, these are amazing!" And then I asked her for the recipe.
The thing that got me most was the texture. The peanut butter part was soft and smooth, yet they're firm enough to pick up and eat (especially if kept refrigerated). They're also incredibly rich and full of huge peanut butter and chocolate flavor. Mike doesn't normally like any sort of peanut butter bar, but even he loved these, and he also compared them to Reese's peanut butter cups. I definitely recommend you try these. They're no-bake, and incredibly easy to make. A perfect treat for summer 🙂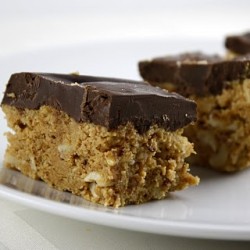 No-Bake Peanut Butter Squares
Ingredients:
2 cups powdered sugar
1 cup margarine or butter, softened
1 cup peanut butter
1 teaspoon vanilla
2 3/4 cups graham cracker crumbs (36 squares)
1 cup chopped peanuts
1 package (12 ounces) semisweet chocolate chips (2 cups)
1/4 cup peanut butter
Directions:
**you can use chunky peanut butter and omit the peanuts if you want
Line square pan, 9x9x2 inches, with aluminum foil, leaving 1 inch of foil overhanging on opposite sides. Mix powdered sugar, margarine, 1 cup of peanut butter and the vanilla in large bowl. Stir in cracker crumbs and peanuts (mixture will be a little stiff). Press in pan. Heat chocolate chip and 1/4 cup peanut butter over low heat, stirring frequently until smooth. Spread over crumb mixture. Cover and refrigerate about 1 hour or until chocolate is set. Remove from pan, using foil to lift. Fold back foil; cut peanut butter mixture into 36 squares. Refrigerate uncovered about 2 hours or until firm. Cover and refrigerate any remaining squares.
from Laura Perron, originally from Betty Crocker