Oven Baked Chimichangas
Unfortunately this post was not what I intended to share with you today. I had a post all written about a quintissential British dessert, complete with pictures of our time in London. Somehow, the pictures I took of my version of the dessert seem to have disappeared. This is unfortunate, but not terrible, as I now have a reason to make it again. Hopefully soon. 🙂
This dish, however, definitely deserves its own post. I've actually never had chimichangas before. I tend to avoid them because they always have some sort of beans in them, and I don't really like beans at all. But then I saw this recipe and realized that if I made them myself, I could leave the beans out, and replace them with something yummy like peppers. It worked perfectly, and we had a delicious dinner on the table in less than 30 minutes. These wraps are hot, crispy, and cheesy, with just the slightest kick from the chipotle and cilantro. The flavor is delicious, and I purposely kept leftovers to reheat tomorrow. They're easily adaptable, so feel free to change around the ingredients to what you like. Mike rated this version a 3.75 and I think it's safe to say that these will be in our permanent rotation.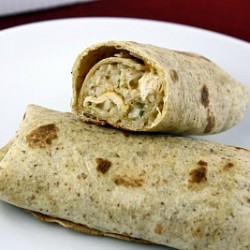 Oven Baked Chimichangas
Ingredients:
3 Tbsp canola oil
1 onion, chopped fine
1/2 red pepper, chopped
1/2 green pepper, chopped
1 1/2 cups cooked brown or white rice
2-3 cups diced, cooked chicken
1/4 tsp chipotle pepper (use more for more kick)
1 cup shredded cheddar or monterey jack cheese
1/2 cup finely chopped fresh cilantro
Salt and Pepper
6 large burrito-size flour tortillas
Directions:
Place a rimmed baking sheet in the oven and heat the oven to 450 degrees. While the oven is heating, in a large skillet, heat 2 tablespoons of the oil over medium heat. Cook the onion and peppers until just soft, 3-4 minutes. Stir in the rice, chicken, chipotle, and salt and pepper and cook until the mixture is heated through, about 3 minutes. Remove the pan from the heat and stir in the cheese and cilantro. Taste and adjust seasonings as needed.
Stack the tortillas on a plate and cover with a damp paper towel. Microwave the tortillas until they are warm and pliable, about 30 seconds. Top each warm tortilla with some of the chicken mixture, leaving about a 2-inch border at the bottom of the tortilla. Fold in the sides and roll up the tortilla tightly. Brush the wrapped tortillas with the remaining oil and arrange them seam side down on the hot baking sheet that has been preheating in the oven. Bake until golden brown and crisp, about 8 to 10 minutes. Serve with sour cream and salsa.