Buffalo Chicken Soup
This soup recipe marks the official end of pumpkin week. Although, if you check back in a few days (as long as everything goes as planned) you just might find one more pumpkin recipe waiting for you. No promises. 🙂
In the meantime, I need a break from all the desserts! (Just wait until you see what I've got coming up in December!) I made this soup for dinner last night because I was looking for something a little unique to try. It was quick and easy to put together, fairly healthy, and definitely full of flavor. Reminiscent of buffalo wings, the soup gets most of its flavor from Frank's RedHot sauce. I never would have thought to put this sauce in a soup, but somehow it just works. The result is a warm, cheesy and spicy bowl of soup – perfect to warm you up on a cold evening.  Neither Mike or I are big fans of spicy food, so I only used 1/4 cup of the original flavor hot sauce.  It was still fairly spicy so I toned it down with extra chicken broth and milk. It wasn't our favorite flavor combination, but it was still a good, comforting bowl of soup. If you're a fan of buffalo wings, however, you'll love this soup!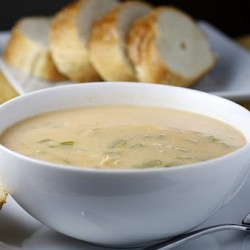 Buffalo Chicken Soup
Ingredients:
1/2 yellow onion, chopped
3 stalks celery, chopped
1/4 cup unsalted butter
1/4 cup flour
2 cups milk
1 cup chicken broth, plus extra if needed
4 oz sharp cheddar cheese
2 cups cooked and cubed chicken
1/8 cup Frank's RedHot sauce
1/2 tsp celery salt
1/2 tsp garlic salt
Directions:
Saute onions and celery in butter until tender. Stir in flour until smooth. Slowly add milk and broth. Heat and stir on medium until soup starts to thicken. Add remaining ingredients and simmer, stirring occasionally, until cheese has melted.
*Disclosure: I was asked to make a recipe containing Frank's RedHot sauce and was compensated for my ingredients and time. I chose the recipe myself and all thoughts and opinions are my own.