Pumpkin Roll
This may not be the prettiest pumpkin roll you've ever seen, but I can personally vouch for how good it tasted! This is one of Mike's favorite desserts in college and I've been putting off making it for him out of fear. The whole idea of rolling cake into a log just seemed beyond my capabilities. But in my endless search for pumpkin recipes, I knew I couldn't avoid this one forever.
Mike absolutely loved it. I was nervous as I made it, but as you can see, everything turned out pretty well. I learned a few things along the way, like don't roll the cake up inside your dishtowel – that did not work well for me. I think there was more cake on the dishtowel than in the pumpkin roll. Next time I would use parchment paper. Also, any imperfections can be covered with powdered sugar and no one will be the wiser. This is an invaluable lesson. And finally, I learned that a less than perfect looking pumpkin roll can still taste incredible. I made this for Mike's family when his uncle was visiting a few weeks ago and everyone seemed to really like it. Enough that I would even be willing to make another one sometime.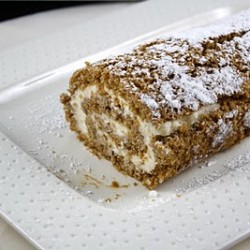 Pumpkin Roll
Yield: Makes 10 servings.
Ingredients:
Cake:
3/4 cup all-purpose flour
1 tsp baking powder
2 tsp cinnamon
1 tsp pumpkin pie spice
1/2 tsp nutmeg
1/2 tsp salt
3 eggs at room temperature, beaten
1 cup granulated sugar
2/3 cup pumpkin puree
1 cup chopped walnuts
Filling:
1 cup sifted confectioner's sugar
1 pkg (8 oz) cream cheese, softened
6 Tbsp butter, softened
1 tsp vanilla extract
Directions:
Preheat oven to 375. Grease a 15x10x1 jellyroll pan. Line with parchment paper. Grease and flour the paper.
Sift flour, baking powder, cinnamon, pumpkin pie spice, nutmeg and salt together. Set aside. In a large bowl, beat eggs and sugar until thick and fluffy. Beat pumpkin puree into egg mixture. Stir in flour mixture all at once. Pour into prepared pan. Spread evenly and sprinkle with nuts.
Bake 15 minutes or until center springs back. Loosen cake around edges with a knife if necessary. Invert onto a clean tea towel spirnkled with confectioner's sugar. (Can use parchment paper). Pull off the baking paper and trim 1/4 inch from all sides if too crisp. From short side, roll up cake and towel together while warm. Place seam side down and cool completely on a cooling rack. While the cake is cooling, beat the filling ingredients together until smooth. Unroll cake and spread with filling. Re-roll cake and refrigerate at least 2 hours or until ready to serve.
Tip: Make cake ahead and freeze until needed.
If you like what you see, you may want to sign up to get free email updates or subscribe via rss. 🙂
p.s. I just joined facebook! Come on over to my page and "like" me 🙂