Cookie Dough Truffles
Ok, let's have a time of confession. How many of you out there eat raw cookie dough when baking cookies? I know, I know –  there's been a lot of egg scares lately and it's not considered "safe", and yet I just can't stay away from the raw cookie dough!  Seriously, how can you not eat it? It just tastes so good!
Either way, whether you live dangerously or not, these (safe) cookie dough truffles are a must-make. Sweet, creamy, chocolate chip cookies dough that's covered in chocolate and safe to eat? Yes please 🙂
They're made similarly to traditional cookie dough, but with sweetened condensed milk and without eggs. When I made them I was a little disappointed at first because I wasn't a huge fan of them at room temperature. But cold, out of the refrigerator? Oh my gosh…I cannot stop eating them!
They taste just like cookie dough, but actually even better because they're covered in a shell of chocolate! You really can't beat it. I had to freeze them to stop myself from eating them. (As a side note, they taste amazing frozen.)
These have earned a permanent place in my Christmas cookie list and I'm sure I'll be making them year after year.
P.S. You can see all of my Christmas treat recipes from over the years at this Christmas Cookies tag. Enjoy! And, as always, let me know if you try any and how you liked them.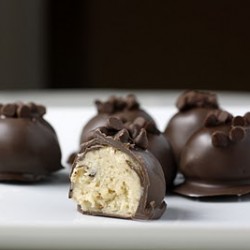 Cookie Dough Truffles
Yield: Makes about 5 dozen.
Ingredients:
8 tbsp. unsalted butter, at room temperature
¾ cup light brown sugar, packed
2¼ cup all-purpose flour
1 (14 oz.) can sweetened condensed milk
1 tsp. vanilla extract
½ cup mini semisweet chocolate chips
1½ lb. semisweet (or bittersweet) chocolate, coarsely chopped
Mini chocolate chips (for garnish)
Directions:
Cream the butter and sugar on medium-high speed until light and fluffy, about 2 minutes. Beat in the flour, sweetened condensed milk and vanilla until incorporated and smooth. Stir in the chocolate chips. Cover with plastic wrap and refrigerate until the mixture is firm enough to form balls.
Shape the chilled cookie dough mixture into 1 inch balls. Place on a wax paper-lined baking sheet and freeze for 1-2 hours.
When ready to dip the truffles, melt the chopped chocolate in a double boiler (or in the microwave at 50% power, stirring frequently). Using a toothpick, dip each chilled truffle, one at a time, coating in chocolate and letting the excess drip off. (If the cookie dough balls become too soft, return them to the freezer to chill for 30 minutes.)
Transfer the dipped truffles to a wax-paper lined surface. If using mini chocolate chips for garnish, sprinkle on top quickly after dipping each truffle before the chocolate sets.
Store in the refrigerator and serve cold. These can also be frozen for longer storage.
Click here to see the rest of the 12 Days of Christmas Treats
If you like what you see, you may want to sign up to get free email updates or subscribe via rss. 🙂