Peppermint Marshmallows
Email from Mike to me, sent last December with a picture of peppermint marshmallows: Please make these marshmallows, they look incredible
Me to Mike this December: Remember that picture of peppermint marshmallows you sent me last year? I think I'm going to make them.
Mike: Great – they look incredible!
Mike to me, as I was making the marshmallows: You mean you can actually make marshmallows??
I could spend my time wondering what goes on in my husband's head, and what he actually thought was going to happen when he sent me the picture of peppermint marshmallows. But I prefer to spend my time eating these delicious sugary treats.
I had no idea making marshmallows would be so easy. Or that they would taste so good! They have a lighter, airier texture than store bought marshmallows. I added peppermint extract to mine which makes them perfect for Christmas. They are absolutely incredible when added to hot chocolate. They melt quickly and infuse the whole drink with sugary peppermint goodness. Mike and I both decided these would be a new holiday tradition!
*Personal notes: I modified the size of the pan from an 8×8 to a 9×13. I tried to use an 8×8, but they overflowed the pan and I had to use various extra containers for all the extra marshmallow goo. I think a 9×13 would be perfect. Also, I like the red marbling, but it's only on top of the marshmallow. When I make these next year, I will probably add some red food coloring to the marshmallow mixture as it's mixing to tint the whole thing pink.
P.S. You can see all of my Christmas treat recipes from over the years at this Christmas Cookies tag. Enjoy! And, as always, let me know if you try any and how you liked them.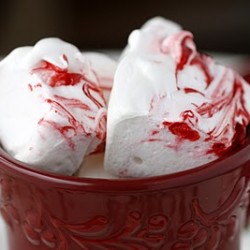 Peppermint Marshmallows
Ingredients:
Vegetable-oil cooking spray
2 cups sugar
1 tablespoon light corn syrup
4 packages (1/4 ounce each) unflavored gelatin
3/4 teaspoon peppermint extract
2 large egg whites
2 teaspoons red food coloring
Directions:
Coat a 9x13 pan with cooking spray. Line the bottom with parchment paper and coat the parchment with cooking spray. Set aside. Put sugar, corn syrup, and 3/4 cup water in a small saucepan. Cook over medium heat, stirring, until sugar is dissolved. Stop stirring and let the mixture come to a boil. Raise the heat to medium-high and cook until mixture registers 260 degrees on a candy thermometer.
Meanwhile, sprinkle gelatin over 3/4 cup water in a heatproof bowl; let stand 5 minutes to soften. Set the bowl with the gelatin mixture over a pan of simmering water. Whisk constantly until gelatin is dissolved. Remove from heat, and stir in extract. Set aside.
Beat egg whites in the bowl of an electric mixer fitted with the whisk attachment until stiff (but not dry) peaks form. Whisk gelatin mixture into sugar mixture. With the mixer running, gradually add the sugar/gelatin to the egg whites. Mix on high speed until very thick, 12 to 15 minutes.
Pour mixture into lined pan. Working quickly, drop dots of red food coloring across surface of marshmallow. Using a toothpick, swirl food coloring into marshmallow to create a marbleized effect. Let marshmallow stand, uncovered, at room temperature until firm, at least 3 hours or overnight.
Cut into squares. (Scissors seemed to be the easiest way to cut these). Roll the cut marshmallows in powdered sugar to prevent sticking and store in a ziploc bag or airtight container.
Click here to see the rest of the 12 Days of Christmas Treats
If you like what you see, you may want to sign up to get free email updates or subscribe via rss. 🙂