Peppermint Meltaways
*Note: I feel the need to warn you that this is the first of several peppermint or mint flavored treats you will be finding here this month. I seem to have a peppermint problem this Christmas.
I think these peppermint meltaways are by far the cutest Christmas cookies I've made. They're so small and pink, and the crushed peppermint candy on top is a fun and festive touch. The cookies consist of a shortbread like crust covered in pink peppermint frosting. They're delicious – light and buttery and sweet. As the name suggests, they literally melt in your mouth. I made them bite sized which I think only added to their cuteness. These are quick and easy to make, and they make a wonderful festive addition to your Christmas cookie trays.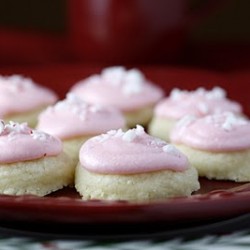 Peppermint Meltaways
Yield: Yield: 3 1/2 dozen
Ingredients:
Cookies:
1 cup butter, softened
1/2 cup confectioners' sugar
1/2 teaspoon peppermint extract
1-1/4 cups all-purpose flour
1/2 cup cornstarch
Icing:
2 tablespoons butter, softened
1-1/2 cups confectioners' sugar
2 tablespoons milk
1/4 teaspoon peppermint extract
2 to 3 drops red food coloring, optional
1/2 cup crushed peppermint candies
Directions:
For the cookies: Cream butter and confectioners' sugar in a medium sized bowl until light and fluffy. Beat in extract. Combine flour and cornstarch; gradually add to creamed mixture and mix well. Refrigerate dough for 30 minutes. (Optional, but will result in prettier cookies).
Shape dough into 1-inch balls. Place 2 inches apart on ungreased baking sheets. Bake at 350° for 10-11 minutes or until bottoms are lightly browned. Let cool on baking sheet for 5 minutes. Remove gently to wire racks to cool completely.
For the Icing: In a small bowl, beat butter until fluffy. Add the confectioners' sugar, milk, extract and food coloring and beat until smooth. Add more milk or powdered sugar to get the frosting to the preferred consistency for spreading. Spread over cooled cookies. Sprinkle with crushed candies if desired. Store in an airtight container.
Click here to see the rest of the 12 Days of Christmas Treats
If you like what you see, you may want to sign up to get free email updates or subscribe via rss.