Please tell me – am I the last one to discover the pure comforting bliss of a bowl of chicken stew with dumplings? How have I never tasted this before? Seriously, I took my first bite (straight out of the pot – quality control!) and said to myself "oh my goodness, this is good." Then I took another bite and shouted into the other room to Mike: "you're going to be so happy about this!" I hid it pretty well in the picture below, but if you look carefully you might be able to see that one of the dumplings is actually half missing. That's because I couldn't stop "taste-testing" the finished result. (I promise, I only do this when it's just for me and Mike!)
This recipe comes from a Williams Sonoma cookbook and seriously couldn't be easier. It's in the 30 minute meal section, and while I initally had my doubts, this actually came together really quickly. There are no crazy ingredients and the result is hands down one of the best comfort foods you can make in such a short time period. It's warm, creamy, and will have you eating dumplings straight out of the pot. If you're looking for something to make for dinner tonight, please try this. Then come back and tell me how much you loved it.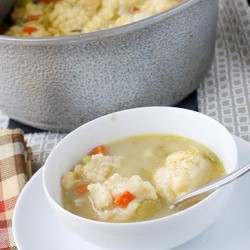 Chicken Stew with Dumplings
Ingredients:
Stew:
1 1/2 lb skinless, boneless chicken thighs, cut into bit-size pieces
2 Tbsp unsalted butter
3 carrots, thinly sliced
1 yellow onion, chopped
2 stalks celery, thinly sliced
2 Tbsp flour
4 cups chicken broth
Dumplings:
2 cups flour
2 tsp baking powder
1 tsp salt
1/2 cup cold unsalted butter, cut into small pieces
1/2 cup milk
1 cup shredded cheddar cheese
Directions:
Melt 2 Tbsp of butter in a Dutch oven over medium high heat. Season the chicken with salt and pepper and add the pot. Cook, stirring often, until golden brown, about 4 minutes. Add the vegetables, season with salt and pepper, and cook until the vegetables begin to soften and the chicken is cooked through, 4-5 minutes. Add in the flour and cook, stirring, for about 2 minutes. Gradually add the chicken broth and bring to a boil.
Meanwhile, make the dumplings. Combine the flour, baking powder, and salt in a medium bowl. Using a pastry blender, work the butter into the flour until the mixture forms coarse crumbs the size of peas. Add the milk and cheese and stir until combined. Knead a few times until the mixture forms a soft dough.
Drop heaping tablespoons of the dough over the top of the boiling stew. Reduce the heat to low, cover the pot, and cook until the dumplings have nearly doubled in size, 8-10 minutes.
from the Williams Sonoma One Pot Cookbook