Cheddar, Broccoli, and Bacon Stuffed Potatoes
Recently I've been trying to focus on simple unique meals that will hopefully keep us from getting in a dinner rut. When I was approached by Sargento, asking if I would like to highlight one of their recipes, these cheddar, broccoli and bacon stuffed potatoes were the first things to catch my eye. I love cheddar cheese, and happen to think it pairs perfectly with baked potatoes. Add in bacon and broccoli and it can only get better. Serve these cheesey stuffed potatoes with a salad on the side, and you've got a great simple meal that's anything but boring.
The recipe might seem time-consuming because you have to bake the potato first. If you're like me, and want to make these after work, you can either bake the potatoes in advance or use the time-bake function on your oven to bake them and have them ready right as you get home from work. After that, this is a 30 minute meal!  And really, nothing goes better with a potato than cheese, broccoli and bacon. Unless it's sour cream, which we added at the end. 🙂 Mike loved this dinner and would willingly eat it multiple times a week. Actually, I think his exact quote was "oh my gosh, these are amazing!"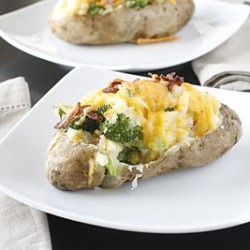 Cheddar, Broccoli, and Bacon Stuffed Potatoes
Ingredients:
2 large baking potatoes
1 Tbsp butter
4 slices of bacon, cooked and crumbled
1 cup small broccoli florets, cooked crisp-tender
1/4 tsp. salt
1/8 tsp. pepper
1/2-3/4 cup Sharp Cheddar Cheesesour cream
Directions:
Preheat oven to 400. Bake potatoes for 1 hour, or until soft; cool 10 minutes. Slice off the top of each potato (lengthwise) and scoop out the insides with a spoon, leaving 1/4-inch thick shell.
Place the scooped out insides into a bowl and mash with the butter. Mix cheese and bacon in a small bowl. Set aside 1/4 cup and stir the rest into the mashed potatoes along with the broccoli, salt, and pepper. Taste and adjust seasonings accordingly. Mound the potato mixture into the reserved potato skins. Place in a shallow baking pan. Sprinkle with reserved cheese mixture.
Bake at 400 for 20 minutes or until heated through. Serve with sour cream.
*Note: Sargento compensated me for writing this post. However, as always, I chose the recipe and all thoughts and opinions are my own.