Beef Stew is one of my favorite things to eat in the winter.  I used to beg my mom to make it when I was little, but since she makes hers with leftover pot roast, we were limited in how often we could have it.  I hadn't actually had beef stew in quite awhile when my friend from work, Danette, kept talking about how good her mom's stew was. She went on and on about how thick and meaty it was, how rich the broth was, how good a rutabega is in stew, etc. And every time she talked about it, I would say "oh my gosh, it sounds so good."
Then one day she brought me a quart of her home canned tomatoes, emailed me the recipe and said "you need to make this." And I did. And she was right – this is one of the best beef stews I've ever eaten. Something about the long bake time in the oven, or maybe it's the interesting list of ingredients, just gives this stew a rich and savory flavor that is so good you can't help but go back for more. I can't wait to make this again, and since Mike loved this just as much as I did, you can bet it will be on our dinner table again and again.
We served these with cheesy biscuits, which were delicious!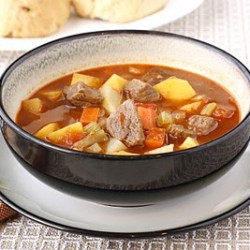 Oven Baked Stew
Ingredients:
1 1/2 to 2 lbs stew meat
Garlic powder and seasoning salt to taste
2 Tbsp olive oil
1 small onion, chopped
1 qt stewed tomatoes (or 2 small cans)
1 can tomato soup
1 can beef broth
1/2 cup White Wine
1 tbsp Worcestershire sauce
2 tbsp brown sugar
1 bay leaf
3Tbsp tapioca
Salt and pepper to taste
2-3 Medium potatoes peeled and cut into chunks
4 large carrots peeled and cut into chunks
1 Rutabaga peeled and cut into chunks
Directions:
Pre-heat the oven to 350. Sprinkle the meat with a little bit of garlic powder and seasoning salt. Heat the oil in a large cast iron Dutch oven over medium-high heat and brown the meat, in batches, until browned on all sides, 4 to 5 minutes. Remove the meat and cook the onions on medium heat until slightly soft. Remove the pot from the heat and add the meat back in. Add the tomatoes, tapioca, brown sugar, bay leaf, salt and pepper, white wine, beef broth and tomato soup. Bake in the pre-heated oven for 1 1/2 hours.
Remove the stew from the oven and add in the carrots, pototatoes and rutabaga. Bake for another 1 1/2 hours, or until vegetables are fork tender, stirring occasionally. Remove bay leaf before serving.
adapted, slightly, from Danette's recipe