Caprese Quinoa
I saw this recipe on How Sweet Eats (if you're not reading Jessica's blog, you really should be!), and knew I had to make it immediately. Granted, I think that about most of the things she posts, but for some reason I just couldn't get this out of my head. So I made it. And I am convinced, yet again, that you can never go wrong with the pairing of fresh mozzarella and basil. I love it!
I made this for lunch for Mike and I on the Saturday before the 4th of July. I liked it so much that I made it again the following day for our church picnic. I pointed it out to my friends as we walked through the buffet line and said "try this, I made it." (Does anyone else do that?).  Good thing I did because with everything else disappearing around it, this caprese quinoa was still sitting on the table virtually untouched. Someone told me later, "I would have tried it, but I had no idea what it was." Please make this beautiful salad, force your friends to eat it, and educate the people around you on the wonders of quinoa. They won't be sorry.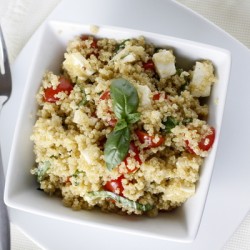 Caprese Quinoa
Yield: Makes about 3 cups
Ingredients:
1 cup uncooked quinoa
16 oz container of grape tomatoes, quartered
8 oz fresh mozzarella, cubed
10 large basil leaves, cut into ribbons
1/2 teaspoon sea salt
1/2 teaspoon pepper
Basil Oil (recipe below)
Homemade Basil Oil
1 cup olive oil
1 1/2 cups packed basil leaves, coarsely chopped
Directions:
Prepare quinoa according to directions on box (which is most likely: 2 cups water + 1 cup quinoa, bring to a boil, reduce to a simmer, cover and cook for 15 minutes). Let cool, then add tomatoes, cheese, basil, salt and pepper. Drizzle 2-3 tablespoons of basil oil over top and mix gently. Serve immediately or refrigerate to allow flavors time to blend.
For the Basil Oil: Blend oil and basil leaves in a food processor until mixed, 30-60 seconds. Pour into a small saucepan and heat over medium heat, just until bubbles appear around the edges. Remove from heat and let cool completely. Pour through a fine mesh strainer and press on the basil leaves to release all the oil. Store in an airtight container in the refrigerator for 2-3 weeks.