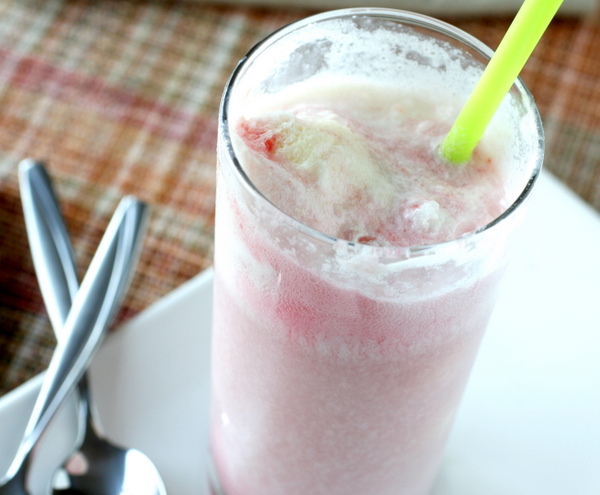 This might be my favorite treat of the summer. Mike and I both took one bite of these raspberry ice cream sodas, grinned at each other and said "This is amazing!"  Mike is not normally a big raspberry fan, but even he couldn't get enough of these. I had no idea it was so easy to make your own authentic ice cream sodas. Best of all, because it's made with actual raspberries, it really does taste like raspberries!
I first made these as a Friday night treat a few weeks ago. Once I took a bite, I wasn't patient enough to take pictures – I just wanted to drink my soda!  Plus, morning is the best time for picture taking in our house. I actually woke Mike up fairly early the next morning saying "hey…I really need to take pictures of those ice cream sodas we had last night. If I make two and take pictures of them, will you eat one for breakfast?" He looked at me like I was crazy and said "Are you kidding?? That sounds perfect!" Ice cream sodas for breakfast…just one of the many trials of being married to a food blogger.

 Give these a try if you're looking for an easy and fun summer treat. I'm already thinking about the different variations…I think strawberry is next on the list!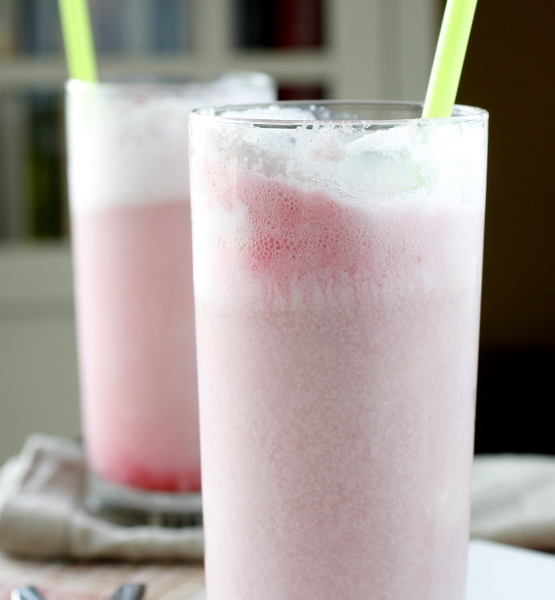 Raspberry Ice Cream Sodas

Ingredients:

1/4 cup sugar
3 half-pt (6 oz each) containers of raspberries
3 pt vanilla ice cream
1 bottle (32 oz) seltzer

Directions:

In a small saucepan, bring the sugar, 1/4 cup water and 2/3 of the berries to a boil. Lower the heat and simmer until the berries are very soft, 5-10 minutes. Strain and press through a fine-mesh strainer set over a bowl, discarding the seeds. Refrigerate until cold.

Divide the ice cream among 6 tall glasses. Top with the seltzer, leaving some space at the top of each glass. Top the sodas with the raspberry puree and garnish with remaining berries. Serve immediately.

adapted from Rachael Ray Magazine, August 2011