Red Velvet Cupcakes with Cream Cheese Frosting
Let me just come out and say it – these are absolutely amazing.  I never thought I liked red velvet cake until I tried these cupcakes. Granted, my only experience with it came from watching Steel Mangolias, and who would ever want to try red velvet cake after seeing that armadillo cake?? I would probably still be avoiding this particular cake flavor if someone hadn't specifically requested it. I made cupcakes for a bridal shower this past week and of the three flavors requested, red velvet with cream cheese frosting was at the top of the list.
Oh well, I thought. I just have to make them, I don't have to eat them. And then there were extra…and I ate one…and it changed my outlook on life. Or at least my outlook on red velvet cake. Now I can't get enough! It's light and fluffy, just as cake should be. And the flavor is something amazing, something altogether different than plain old white cake. Can red food coloring really do that? Regardless, you need to try these. They're pretty and delicious and smothered in cream cheese frosting. What else do you need to know?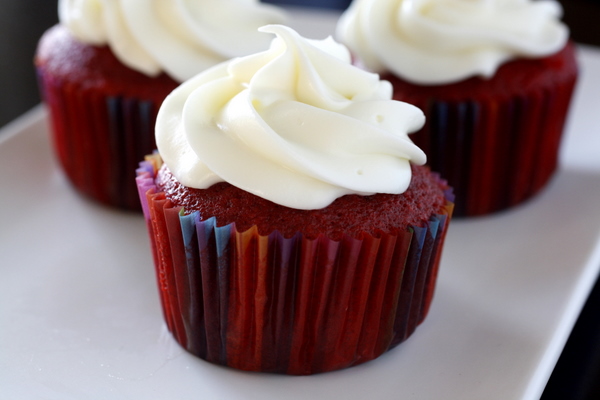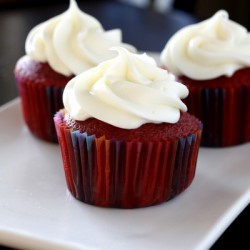 Red Velvet Cupcakes with Cream Cheese Frosting
Ingredients:
Cake:
2½ cups cake flour
1½ cups sugar
1 tsp. baking soda
1 tbsp. cocoa powder
1 tsp. salt
2 large eggs
1½ cups vegetable oil
1 cup buttermilk
2 tbsp. (~1 oz.) liquid red food coloring
1 tsp. vanilla extract
1 tsp. distilled white vinegar
Frosting:
8 oz. cream cheese, softened
5 tbsp. unsalted butter, softened
2 tsp. clear vanilla extract
2½ cups confectioners' sugar, sifted
Directions:
Preheat the oven to 350° F. Line cupcake pans with paper liners and set aside. Whisk together the cake flour, sugar, baking soda, cocoa powder and salt in a medium bowl. In the bowl of an electric mixer, combine the eggs, vegetable oil, buttermilk, food coloring, vanilla and vinegar. Beat on medium speed until well blended. Mix in the dry ingredients on low speed then increase the speed and beat until smooth, about 2 minutes. Divide the batter evenly between the prepared liners. Bake, rotating the pans halfway through baking, until a toothpick inserted in a center cupcake comes out with moist crumbs, 18-20 minutes. Let cool in the pans 5-10 minutes, then transfer to a wire rack to cool completely.
For the frosting, combine the cream cheese and butter in the bowl of an electric mixer. Beat on medium-high speed until well combined and smooth, about 2-3 minutes. Mix in the vanilla extract then gradually beat in the confectioners' sugar until totally incorporated. Increase the speed and beat until smooth. Frost cooled cupcakes as desired.
*If you're going to pipe the frosting on like I did, you will most likely need to increase the quantity by 50%. You will probably have a little left over, but that's better than running out. If you're just spreading the frosting on with a knife, you should be fine with the amount as written.