Lemon Blueberry Layer Cake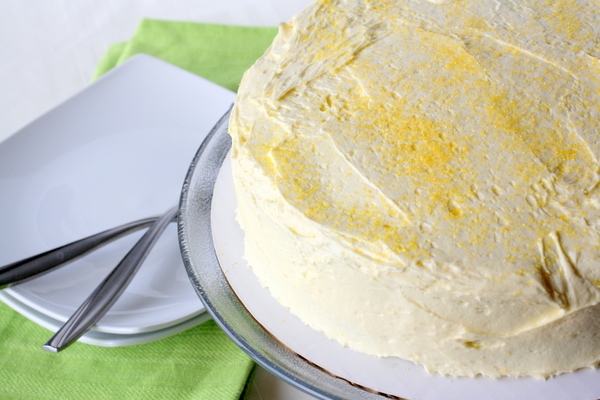 If you follow me on Facebook, you already know that I made this cake to celebrate Mike's birthday last weekend. He absolutely loves the combinatinon of lemon and blueberry, so when I saw this cake on Sweetapolita's site (hers looks a ton better than mine!) I knew it would make the perfect birthday cake for Mike.
Unfortunately we have quite a few people in the family who aren't big fans of blueberries, but for everyone else, this cake was a huge success. The lemon flavor in the cake is strong without being overwhelming, and the lemon frosting was the perfect finishing touch. Mike declared it his perfect birthday cake, and I'm already wondering what other excuses I can find to make a batch of zesty lemon frosting.
Note: Does anyone know why my blueberries always sink to the bottom of my cake? What am I doing wrong?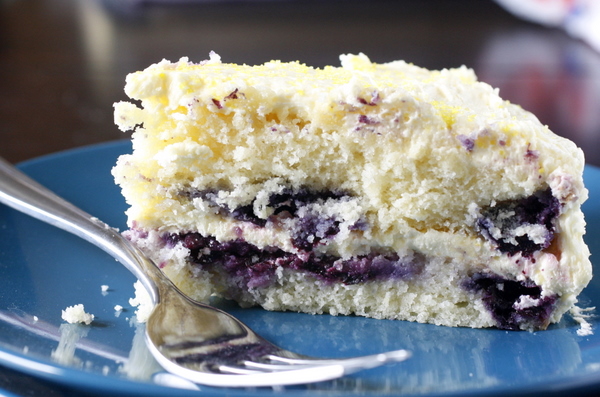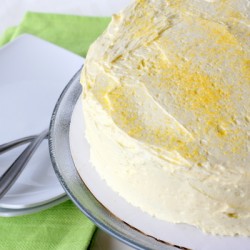 Lemon Blueberry Layer Cake
Ingredients:
Lemon Blueberry Cake:
2 cups plus 6 tablespoons all-purpose flour
2 teaspoons baking powder
1 teaspoon salt
3 cups fresh blueberries
1/2 cup sour cream
1/2 cup whole milk
2 teaspoons vanilla extract
3/4 teaspoon pure lemon extract
1 teaspoon lemon zest
1 cup (2 sticks) unsalted butter, softened about 20 minutes out of refrigerator
1 1/2 cups white sugar
4 large eggs
Zesty Lemon Frosting:
1 cup soft unsalted butter
2 teaspoons lemon zest
5 cups icing sugar (or 6 for sweeter version)
60 ml fresh lemon juice
6 tablespoons whipping cream
1/2 teaspoon pure lemon extract
2 tablespoons water
pinch salt
1 drop yellow food coloring (optional)
Directions:
For the Cake:
Preheat oven to 350°F. Prepare two 9″ round cake pans with parchment paper, butter and flour. Sift dry ingredients into medium bowl. Transfer 1 tablespoon flour mixture to larger bowl. Add fresh blueberries and toss to coat them with flour. Set remaining flour mixture and blueberries aside.
Stir milk, sour cream, vanilla, lemon extract and lemon zest in small bowl and set aside. In the bowl of a stand mixer, cream butter and sugar, until pale yellow and very fluffy, about 5 minutes. Beat in eggs one at a time, until well combined. Mix in flour mixture alternately with milk mixture, starting and ending with flour mixture. Stir until just combined. Gently fold in blueberries. Divide batter equally among cake pans.
Bake cakes until toothpick inserted into centet comes out clean, about 30-35 minutes. Cool cakes in pans on racks for about 10 minutes, then invert onto racks until completely cool. Frost with zesty lemon frosting.
For the Frosting:
Cream butter and lemon zest in bowl of electric mixer fitted with paddle attachment, about 3 minutes. Slowly add powdered sugar, mixing on low speed for about 2 minutes. Add remaining ingredients and beat on med-high for 3-4 minutes until very fluffy.