Rosemary Olive Oil Potato Bread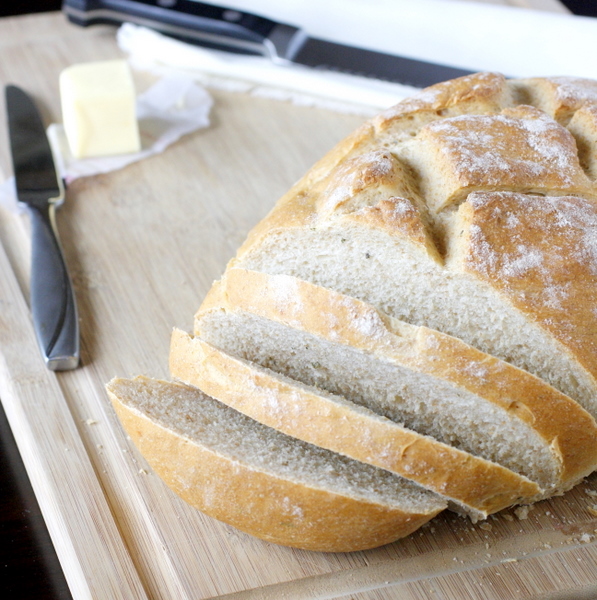 I have made this bread two weeks in a row now and plan on continuing the trend. It's one of the best breads I've ever made. The recipe comes from Straight from the Farm, via my friend Katie. Katie talked about this bread with enough enthusiasm that I knew I had to make it. And considering that rosemary is the one plant in my little herb garden that I haven't managed to kill yet, it seemed to be perfect timing. I'm so glad I tried it, and like I said above, this bread is sure to make it into the regular rotation.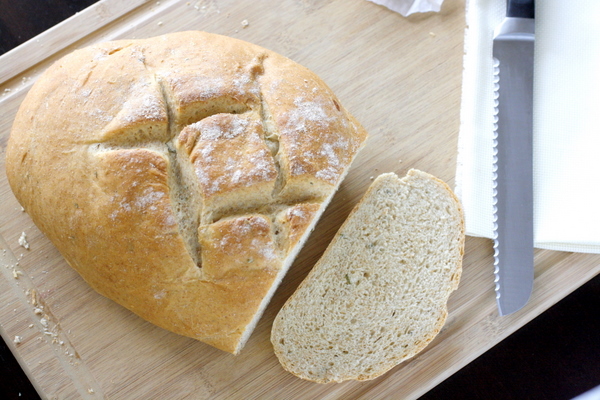 The potato in the bread keeps it amazingly soft and easy to slice, and the rosemary and olive oil give it a great flavor. We've used this bread for sandwiches and paninis, eaten it toasted with butter, and my personal favorite, spread with butter while it's still warm from the oven. You really can't go wrong, and best of all, this bread is actually fairly easy to make (especially if you use the potato flake substitution listed below!) Mike came home last week and saw this bread on the counter and his first words to me were: "Oh good, you made more bread!" Now that's what I call a winning recipe. 🙂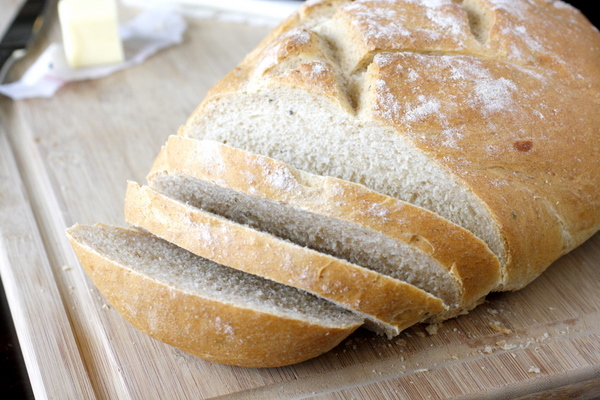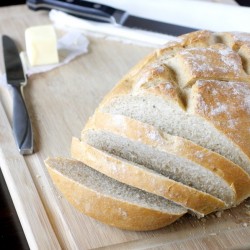 Rosemary Olive Oil Potato Bread
Yield: 1 large loaf or 2 small loaves
Ingredients:
1 cup cold, roasted mashed up potatoes, skins removed (*Can also use mashed potato flakes to make 1 cup of mashed potatoes)
4 Tbsp olive oil
1 envelope (1/4 oz) active dry yeast
1 cup warm water
3 cups white flour
1 cup whole wheat flour
2 tsp salt
2 tsp fresh rosemary, finely chopped
Directions:
In a small bowl mix together the mashed potatoes and olive oil. Set aside.
In a large bowl, mix the warm water with the yeast and let sit for 5 minutes, or until bubbly. Add the flour, whole wheat flour, salt, rosemary, and potato/oil mixture and mix together. Add more water or flour as needed to form a soft dough. Turn the dough out onto a floured surface and knead for 8-10 minutes, or until smooth and elastic. Clean out the mixing bowl and lightly spray with cooking spray. Place dough in the bowl and cover with a dishtowel. Let rise 1 hour, or until doubled in size.
Turn risen dough out onto a floured surface and knead a few times. Flatten the dough with your hands and fold up like business letter. (You could also separate the dough into two smaller loaves at this point.)Turn it seam side down, form into a plump oval shape, and place on a lined baking sheet. Sprinkle the top with flour, cover with a towel and let rise for 30 minutes, or until doubled in size.
Preheat the oven to 400. Using a sharp knife make 3-4 diagonal slits in the bread to make a criss-cross pattern. Bake for 30-35 minutes or until golden brown and the loaf sounds hollow when you tap on it. Transfer to a wire rack to cool. Let cool completely before slicing.