Quick and Easy Apple Strudel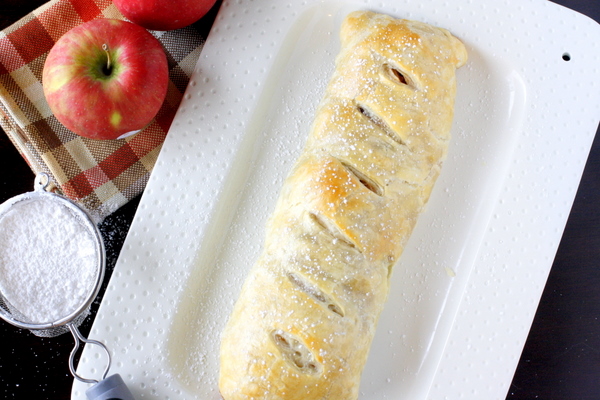 This quick and easy apple strudel makes a great Fall dessert! It's so simple to put together and tastes like a lighter version of apple pie.
I made this for a snack for my Sunday School class a few weeks ago and everybody seemed to really enjoy it. The crust (just some rolled out puff pastry) is light and flaky, and the inside is full of soft cinnamon apples and sweetened dried cranberries.
Best of all, the end product looks a little more fancy than something you only spent 15 minutes on!
If you need a quick Fall dessert, give this one a try! And have some vanilla ice cream on hand to serve with it. 🙂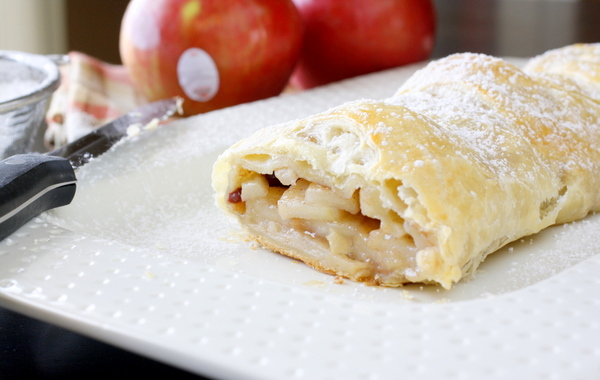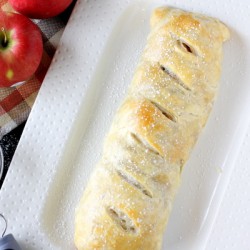 Quick and Easy Apple Strudel
Ingredients:
1 egg
1 tbsp. water
4 tbsp. granulated sugar
1 tbsp. all-purpose flour
1/4 tsp. ground cinnamon
2 large Granny Smith apples, peeled, cored and thinly sliced
2 tbsp. sweetened dried cranberries
1/2 of a 17.3-ounce package Pepperidge Farm® Puff Pastry Sheets (1 sheet), thawed
Confectioners' sugar
Directions:
Heat the oven to 375°F. Beat the egg and water in a small bowl with a fork. Stir the granulated sugar, flour and cinnamon in a medium bowl. Add the apples and dried cranberries and toss thoroughly to coat.
Sprinkle additional flour on the work surface. Unfold the pastry sheet on the work surface. Roll the pastry sheet into a 16 x 12-inch rectangle. With the short side facing you, spoon the apple mixture onto the bottom half of the pastry sheet to within 1 inch of the edge. Roll up like a jelly roll. Place seam-side down onto a baking sheet. Tuck the ends under to seal. Brush the pastry with the egg mixture. Cut several slits in the top of the pastry.
Bake for 35 minutes or until the pastry is golden brown. Let the pastry cool on the baking sheet on a wire rack for 20 minutes. Sprinkle with the confectioners' sugar, and slice to serve.