Cosmic Brownies
How much fun are these cosmic brownies? They are a homemade version of the boxed variety you buy at the store. You know…the ones covered in M&M's that you can't help but eat, even though you know they're not as good as homemade?
Well, good news. These homemade cosmic brownies are amazingly good. So good, that if you're worried about eating healthy, you probably shouldn't make them.
The brownie part is soft and fudgy and the icing (chocolate ganache!) is chocolatey and gooey! The combination is an ultra rich brownie only made better by the sprinkling of mini M&M's over the top.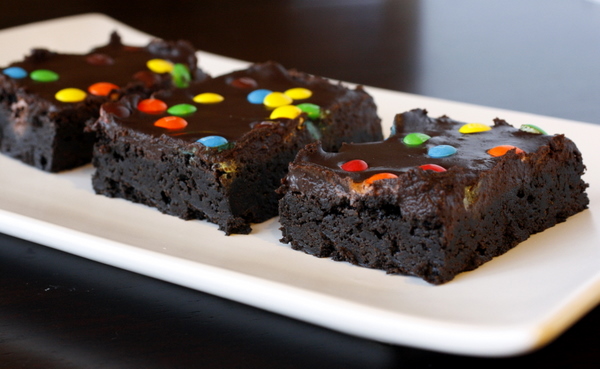 Seriously, I've been dreaming about these cosmic brownies ever since the first time I made them, and I can't wait to make them again!
They can also be frozen, but just as a warning, the M&M's tend to discolor in the freezer.  But as a side note, they do taste pretty great straight out of the freezer – no need to thaw. 🙂
P.S. Make sure to also check out these chewy brownies (aka The Best Brownies I've Ever Eaten)!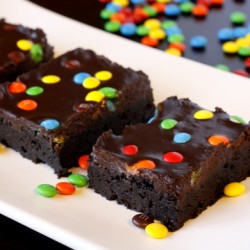 Cosmic Brownies
Ingredients:
Brownies:
1 cup granulated sugar
2/3 cup brown sugar
3/4 cup (1 1/2 sticks) butter, melted
2 tablespoons water
2 large eggs
2 teaspoons vanilla
1 1/2 tsp espresso powder or instant coffee, optional
1 1/3 cups all-purpose flour
3/4 cup unsweetened cocoa
1/2 teaspoon baking powder
1/4 teaspoon salt
Ganache:
1/2 cup heavy cream
7 oz bittersweet chocolate
pinch of salt
mini M&M's to sprinkle over the top
Directions:
Pre-heat oven to 350. Grease a 13x9 pan and set aside.
Whisk together the sugar, brown sugar, melted butter and water in a large bowl. Add the eggs, vanilla and espresso powder and stir together. In a medium bowl, mix together the flour, cocoa, baking powder and salt. Stir the dry mix into the wet mixture and stir to combine. Spread the batter into the prepared pan. Bake for 18 minutes or until the brownies are just done and a toothpick inserted in the center comes out with moist crumbs. Set on a rack to cool.
While the brownies are baking, prepare the ganache. Chop the chocolate into small pieces and place in a mediume sized bowl. Set aside. In a small saucepan, heat the cream just to a simmer. Don't let it come to a boil. Remove from the heat and pour over the chocolate. Sprinkle with the salt and let sit for a few minutes. Stir gently until the chocolate is melted and the mixture is smooth. Set aside to cool slightly.
When the brownies are mostly cool, pour the ganache over the top and spread evenly. Sprinkle the mini M&M's over the top, as many as you like. Cool in the fridge until the ganache is set.