Slow Cooker Chicken and Mushroom Pot Pie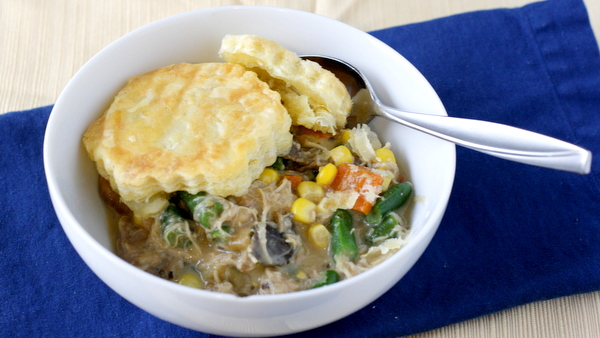 When I wrote this post and planned for it to go up today, I had no idea it was going to be almost 80 degress in Michigan! Despite that, I know that it will eventually get colder again before Spring officially comes, and maybe it is still cold where some of you are. Either way, I hope you enjoy this recipe! 🙂
Chicken Pot Pie might be the ultimate comfort food. I love pretty much every variation of it. It certainly doesn't get much easier or tastier than this slow cooker variety however. It really is as simple as dumping ingredients in a pot (you will have to slice some vegetables first!), and turning on the crockpot. I couldn't believe that simply mixing flour in with the rest of the ingredients produced the gravy like consistency you expect from chicken pot pie.  And using puff pastry for the biscuit portion is an easy (and delicious) way to go about it.
I half expected this easy recipe to be lacking in flavor, but I have to say I was very pleasantly surprised by the end result. Mike and I both loved this meal and happily ate it for 2 days straight.  This slow cooker chicken pot pie makes a great weeknight comfort meal!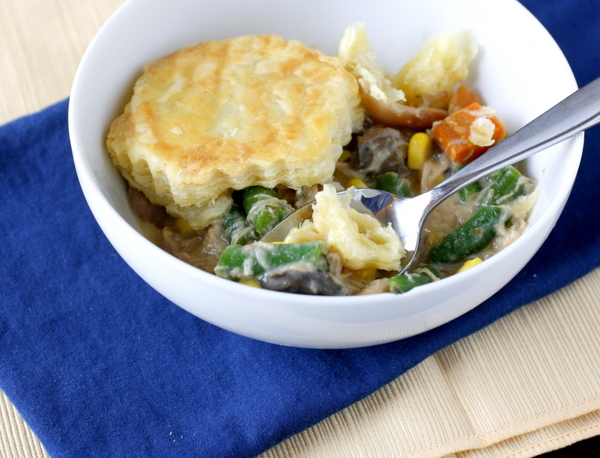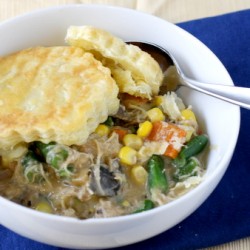 Slow Cooker Chicken and Mushroom Pot Pie
Ingredients:
8 oz cremini mushrooms, stems trimmed and halved
4 carrots, cut into 1 inch pieces
1 medium onion, chopped
1/3 cup all-purpose flour
2 sprigs fresh thyme
1 bay leaf
1 pound boneless, skinless chicken thighs (I used 4 thighs and it was perfect)
Salt and Pepper
1 sheet puff pastry, thawed
1 cup frozen corn
1 cup frozen green beans
1/3 cup heavy cream
Directions:
Mix the mushrooms, carrots, onion, flour, thyme, bay leaf, and 1/2 cup water in a 4-6 quart slow cooker. Place the chicken on top and season with 1 tsp salt and 1/4 tsp pepper. Cover and cook 7-8 hours on low, or until the chicken is cooked through and the vegetables are tender.
Thirty minutes before serving pre-heat the oven to 425. Using a large biscuit cutter, cut the puff pastry sheet into 4 circles. Place on a baking sheet and bake until golden, 8-10 minutes.
Ten minutes before serving, shred the chicken in the slow cooker and remove the bay leaf. Add the corn, green beans and cream, stirring to combine. Taste and add salt and pepper as needed. Cover and cook on low until heated through and ready to serve. To serve, place the chicken mixture in bowls and top with the pastry rounds.