Thai Chicken Soup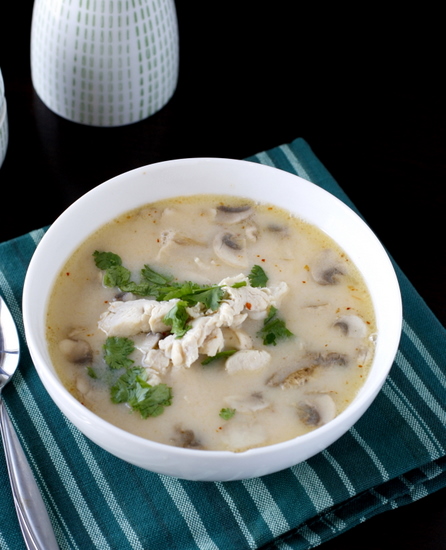 If you follow me on Facebook, you know that I was a little worried about this Thai Chicken Soup. I had to search the grocery store for some hard to find ingredients (good news – Meijer had them all!), and spend a little extra money stocking up on things like fish sauce and Thai red curry paste. But, if you follow me on Facebook, you also know that this soup was completely worth the effort. Completely. Mike declared it the best soup he's ever eaten. We ate it for days and loved every bit of it. It's sweet and spicy and full of flavor. I haven't eaten a lot of Thai food (Pad Thai is about it…), so I wasn't sure what to expect, but suffice it to say, this soup will make a reappearance at our dinner table in the future. Especially since I've already got most of the hard to find ingredients in my refrigerator now. 🙂 For best results, make sure to serve this soup with lots of jasmine rice – the soup and rice are the perfect combination!
*Note: This soup is not super spicy as is. If you like spicier foods, add a little extra Thai red curry paste. Also, if you've never cooked with fish sauce, a word to the wise: try to avoid smelling it as you're cooking. That scent alone almost made me not want to eat this soup. Don't worry, the soup doesn't taste fishy at all, just delicious!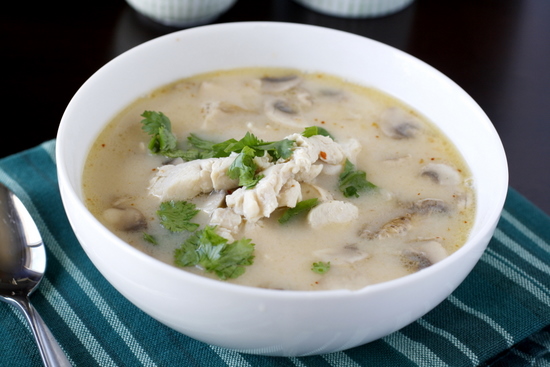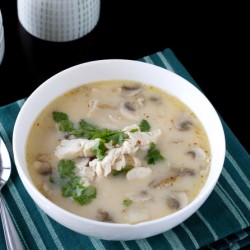 Thai Chicken Soup
Ingredients:
1 tsp vegetable oil
3 lemon grass stalks, trimmed to bottom 6 inches, halved lengthwise and sliced thin crosswise
3 large shallots, chopped
8 sprigs fresh cilantro, coarsely chopped
3 Tbsp fish sauce, divided
4 cups chicken broth
2 (14 oz) cans coconut milk
1 Tbsp sugar
8 oz white mushrooms, sliced 1/4 inch thick
1 lb boneless skinless chicken breats, halved lengthwise and sliced into 1/8 inch thick pieces
3 Tbsp lime juice (2 limes)
2 tsp Thai red curry paste
Cooked Jasmine Rice, for serving
Directions:
In a large pot, heat the oil over medium heat until just shimmering. Add the lemon grass, shallots, cilantro and 1 Tbsp fish sauce. Cook and stir until shallots are just softened, 2-5 minutes. Stir in the chicken broth and 1 can coconut milk and bring to a simmer over high heat. Cover, reduce heat to low and simmer 10 minutes. Pour through a large mesh strainer into a large bowl and discard solids.
Rinse out the pot then return the broth mixture to the pot. Stir the remaining can of coconut milk into the pot, then add the sugar. Bring to a simmer over medium-high heat, then reduce heat to medium and add the mushrooms. Cook just until tender, about 3 minutes. Add the chicken and cook, stirring constantly until chicken is cooked through, about 3 minutes.
In a small bowl, combine the lime juice, curry paste, and remaining 2 Tbsp fish sauce. Remove the soup from the heat and stir in the lime juice mixture. Serve immediately over top of the rice.
from The Cook's Illustrated Cookbook