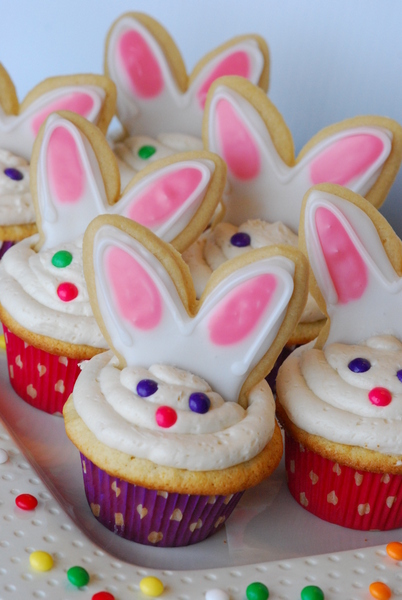 I have been waiting since last Easter to share these Easter Bunny Cupcakes with you! Mike's cousin and I made these for our family dinner last Easter and they were a big hit. Aren't they cute?? Even better, they are so easy to make.  They consist of vanilla cupcakes,  vanilla buttercream and "Bunny Ear" cookies. Assembling them takes just minutes and I guarantee everyone will love them.
For the icing I used a regular vanilla buttercream icing and piped it on with a large round tip. Just start at the outside and take the icing bag around in a circle until you end up with a little mountain of icing. (* I've included my favorite cupcake and icing recipes at the bottom of the post!)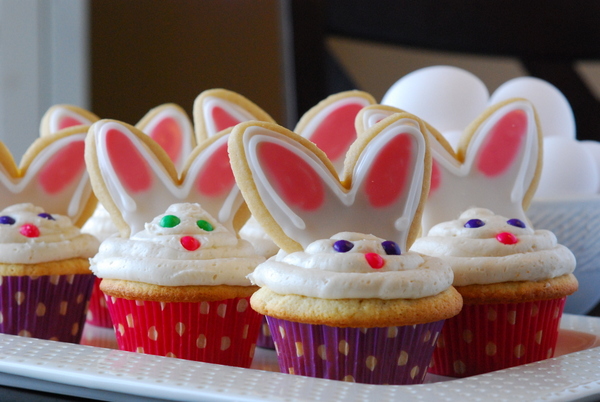 For the bunny ears, I opted to decorate sugar cookies following this post by Sweet Sugar Belle. But next time around I am planning to use paper ears colored with crayons. I think they would be just as cute, and it would be a fun project for kids, too! Just tape or glue your paper ears to a toothpick (use a little bit of icing if you opt for the cookie ears), then once you pipe on the icing, stick the toothpick in the back of the cupcake. Add some large round sprinkles for eyes and a nose, and a cotton ball on the back of the cupcake paper for a tail, and you're done! Happy Easter!
*If you want to see a video of how to make these cupcakes, click here!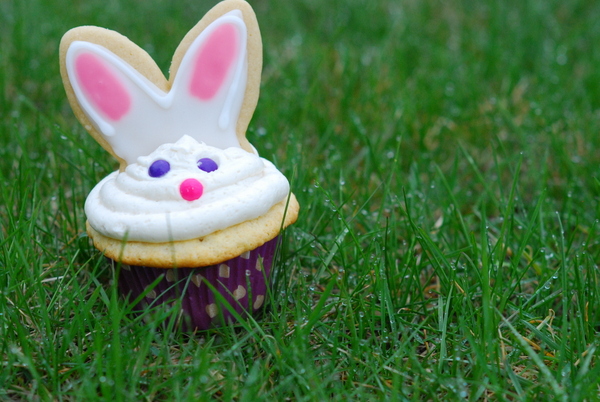 *Note: All photos by Andrea Perron Photography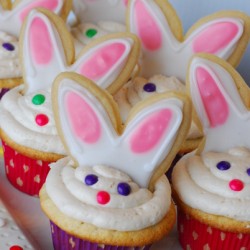 Vanilla Cupcakes with Vanilla Buttercream Icing
Ingredients:
Vanilla Cupcakes:
4 cups plus 2 tablespoons cake flour (not self-rising)
2 teaspoons baking powder
1 1/2 teaspoons baking soda
1 teaspoon salt
2 sticks (1 cup) unsalted butter, softened
2 cups sugar
2 teaspoons pure vanilla extract
4 large eggs, at room temperature
2 cups buttermilk, well-shaken
Vanilla Buttercream Icing
4 sticks unsalted butter, softened
1 tablespoon clear vanilla extract
2 pounds confectioners' sugar
pinch of salt
4-6 tablespoons heavy cream or milk
Directions:
Vanilla Cupcakes:
Preheat oven to 350°F. Line 30 muffin tins with cupcake liners. In a medium bowl, sift together the flour, baking powder, baking soda, and salt. In the bowl of an electric mixer, beat butter and sugar at medium speed until pale and fluffy. Beat in the vanilla then the eggs, one at a time, beating well and scraping down the bowl after each addition. At low speed, beat in buttermilk until just combined (mixture will look curdled). Add flour mixture in three batches, mixing until each addition is just incorporated. Distribute the batter evenly into cupcake tins, then rap pan on counter several times to eliminate air bubbles.
Bake the tops spring back when touched and a toothpick inserted in a center cupcake comes out clean or with moist crumbs, 15-20 minutes. Cool in pan on a rack 10 minutes, then remove from pan and cool completely before icing.
Vanilla Buttercream Icing
In a large mixing bowl, cream together the butter, confectioners' sugar and vanilla. Add salt and 3 tablespoons of heavy cream. Blend on low speed until moistened. Add additional cream until you reach the desired consistency and beat at high speed until frosting is smooth and fluffy.