Chicken Soft Tacos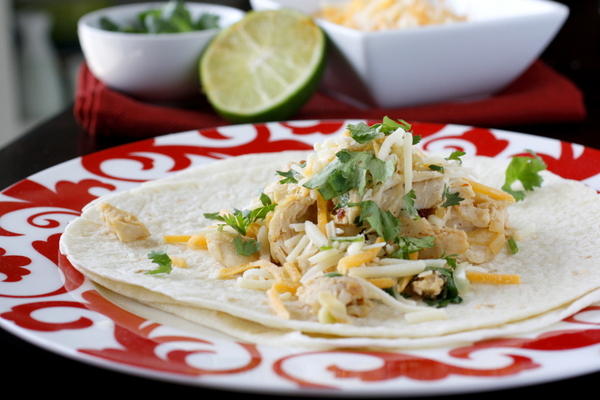 I was very pleasantly surprised by these chicken soft tacos. I knew I would like them – I tend to like anything that involves limes and cilantro, but I didn't realize how easy they were to make, or how good the end result would be. My mom sent me this recipe over a year ago after she and my dad both liked them. I'm not sure why it took me so long to try them, but I'm pretty sure they will be a staple in our house from now on. The chicken is tender and flavorful, and as I mentioned above, I absolutely love the flavors of lime and cilantro together! This was definitely a pleasant change from the typical taco seasoning and salsa version I usually make. They really only took about 30 minutes to make, which was an added benefit. If you're looking for a quick and simple meal that tastes refreshingly different, give these a try. I know we'll be having them again and again!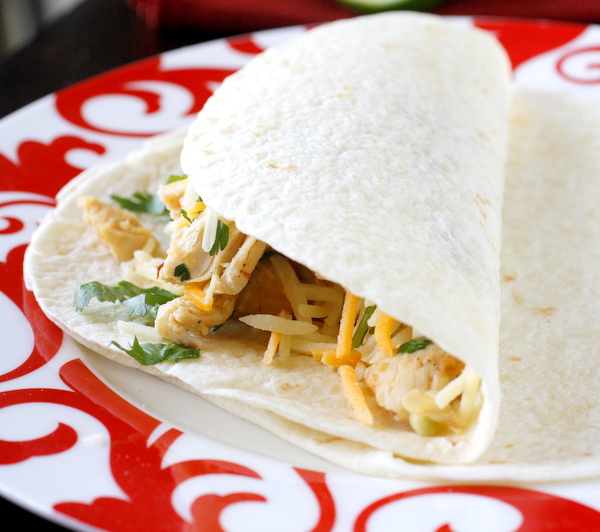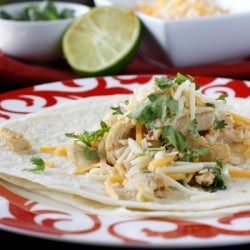 Chicken Soft Tacos
Ingredients:
8 – 12 (6 in) corn or flour tortillas
1 1/2 lbs boneless, skinless chicken breasts (about 3), trimmed
Salt and ground black pepper
2 Tbsp vegetable oil
3/4 cup low sodium chicken broth
1 medium onion, minced
3 medium garlic cloves, minced or pressed through a garlic press (about 1 Tbsp)
2 tsp minced chipotle chile in adobo sauce
1/4 tsp ground cumin
2 scallions, sliced thin
2 T juice from 1 lime
1/4 cup minced fresh cilantro leaves
shredded cheese, for serving
Directions:
Adjust an oven rack to the middle position and heat the oven to 200 degrees. Wrap the tortillas in foil and warm on a baking sheet in the oven.
Pat the chicken dry with paper towels and season with salt and pepper. Heat 1 Tbsp of oil in a 2 inch nonstick skillet over medium high heat. Add the chicken and cook until browned on one side, about 3 minutes. Flip the chicken over, add 1/2 cup of chicken broth, reduce the heat to medium, and cover. Cook until the chicken is cooked through, 5 to 7 min. longer. When the chicken is cool enough to handle, shred into bite sized pieces.
Wipe out the skillet with paper towels, then heat the remaining 1 Tbsp oil in the skillet over medium heat until shimmering. Add the onion and 1/2 t salt and cook until softened, about 5 minutes. Stir in the garlic, chipotle, and cumin and cook until fragrant, about 30 sec. Add the remaining 1/4 cup of chicken broth and bring to a simmer. Return the shredded chicken to the skillet and cook until warmed through, about 30 sec.
Stir in the cilantro, scallions, and lime juice. Season with salt and pepper to taste. Serve with the warmed tortillas and shredded cheese.
from The Best Chicken Recipes