Herbed Lemon Rice Salad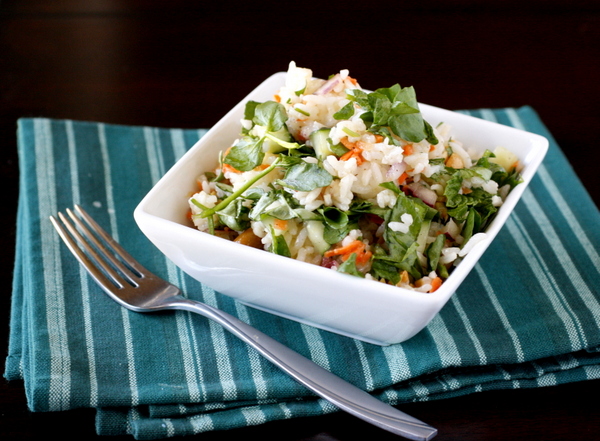 This herbed lemon rice salad would make a fun and unique addition to any summer potluck or picnic. It is a great replacement for a traditional pasta salad, and it combines some wonderful flavors.  I love lemon as a summer flavor, but the varied herbs in this salad really give it a different taste, in a good way. I never would have thought to put all those flavors together, but once I tasted them in the salad, I really liked the end result. The herbs and vegetables really made this salad taste like Summer. We ate this for a few days, but it was definitely best on the first day. I would make it the day you're planning to serve it, and not add the peanuts until the last minute. That way they'll be sure to keep their salty crunch.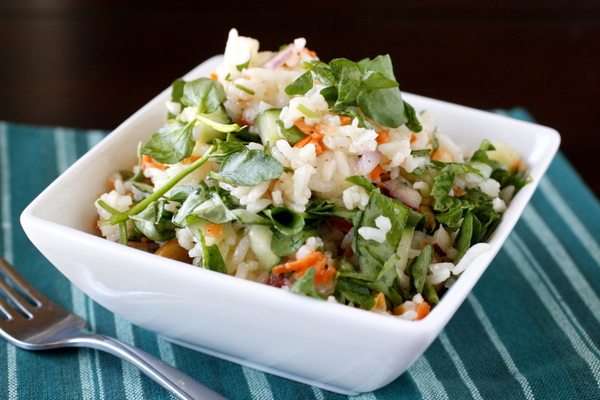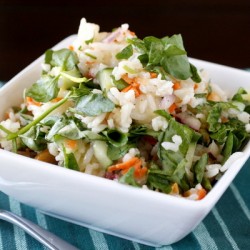 Herbed Lemon Rice Salad
Ingredients:
2 lemons
1/4 cup vegetable oil
2 cups long-grain white rice
2 Tbsp rice wine vinegar
2 tsps packed light brown sugar
Kosher salt and freshly ground black pepper
1/2 medium red onion, thinly sliced
1 medium carrot, shredded
1 medium cucumber, seeded and diced
1/2 cup chopped salted roasted peanuts
1/2 cup fresh cilantro, roughly chopped
1/2 cup fresh mint, roughly chopped
1/2 cup fresh basil, roughly chopped
1 bunch watercress, tough stems removed, leaves torn
Directions:
Remove 2 wide strips of zest from one lemon with a vegetable peeler. Combine 1 strip with the oil in a small saucepan over medium heat and let cook until the edges of the zest turn slightly golden, about 5 minutes.
Meanwhile, cook the rice according to the directions on the package, adding the second lemon zest strip to the water. Transfer the rice to a large bowl, discarding the zest, and fluff with a fork. Let cool to room temperature.
To make the dressing, juice both lemons into a medium bowl. Add the vinegar, brown sugar, 1 1/4 tsp salt and 1/2 tsp pepper and whisk together. Discard the zest from the lemon oil, then whisk the oil into the dressing Add the onion slices and let sit for 15 minutes.
Add the carrot, cucumber, peanuts, cilantro, mint, basil and watercress to the bowl with the rice. Add the dressing mixture and gently toss to combine.
from Food Network Magazine, May 2012