Pasta with Kale and Walnut Pesto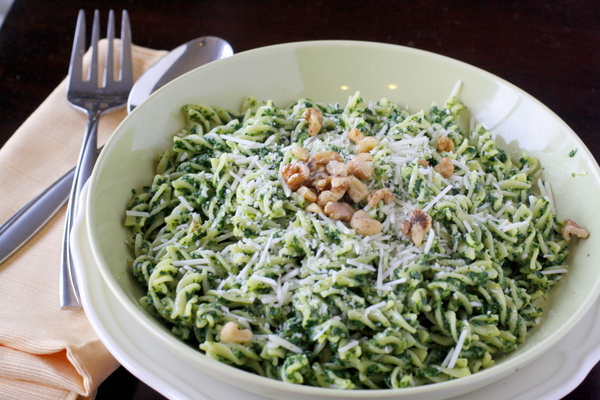 This is one of those recipes that a few years ago, I never would have looked at twice. Since I've started getting more into cooking, I've also started getting more adventurous. I realize that many of you would not classify this meal as adventurous, but a pesto made with kale and walnuts was not something I was sure I would like. It wasn't even that long ago that I realized I liked regular pesto! But since this meal is now appearing on my blog, I'm guessing you've figured out that I loved it. Better than that, Mike loved it too! I was a little nervous about what he'd say when green pasta appeared on his plate, but he didn't even bat an eye. I was so impressed! And yes, we loved this meal. It's full of flavor (and cheese!), and since it's also full of kale, I'm pretty sure it's healthy too. Even better, it doesn't even taste like you're eating kale! This was a wonderfult twist on traditional pasta, and while it tasted best served warm out of the pot,  it was still delicious when reheated. As leafy greans make their appearance this summer, make sure to try this pasta with kale and walnut pesto!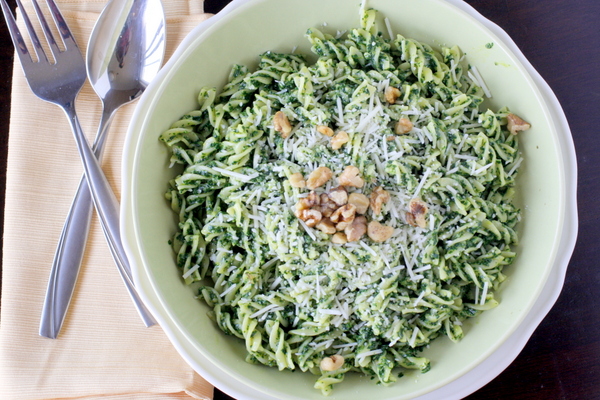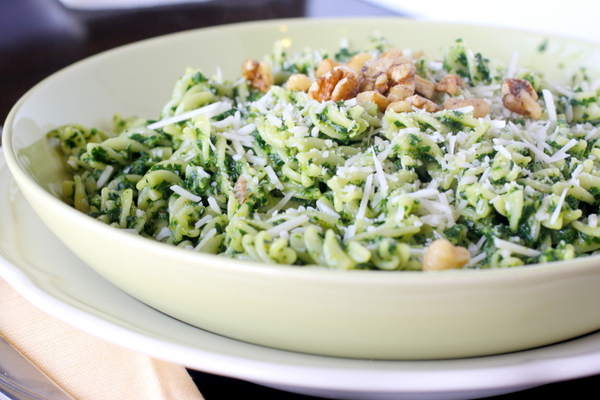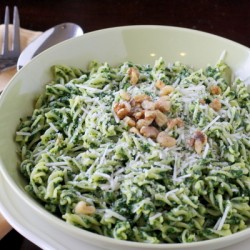 Pasta with Kale and Walnut Pesto
Ingredients:
1/3 cup plus 2 Tbsp walnuts
1 bunch kale, thick stems discarded and leaves torn (about 12 cups)
1 cup grated pecorini (2 oz), plus more for serving (*I couldn't find pecorino, so I used a mixture of parmesan, romano and asiago)
1 small clove garlic
Kosher salt and black pepper
1/2 cup olive oil
3/4 pound fusili, penne, or some other short pasta
Directions:
Heat oven to 350. Spread the walnuts on a rimmed baking sheet and toast, tossing occasionally, until fragrant, 6-8 minutes. Let cool, then chop 2 Tbsp of the walnuts and set aside.
Bring a large pot of salted water to a boil. Add the kale and cook until bright green, 30 seconds. Transfer the kale to a colander, reserving the cooking water. Squeeze dry when cool enough to handle.
In a food processor, combine the kale, cheese, garlic, remaining 1/2 cup of unchopped walnuts, 1/2 tsp salt and 1/4 tsp pepper. Process until finely chopped. With the machine running, add the oil through the feed tube in a steady stream.
Bring the reserved cooking water to a boil and cook the pasta according to the package directions. Reserve 1/2 cup of the cooking water; drain the pasta and return it to the pot. Add the pesto and 1/4 cup of the reserved cooking water and toss to coat. Add more cooking water if the pasta seems dry. Serve the pasta sprinkled with the reserved walnuts.