Asparagus with Lemon, Pine Nuts and Parmesan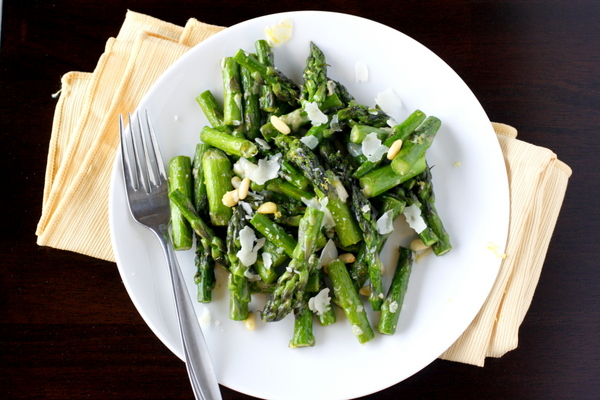 Allow me to introduce you to my new favorite way to eat asparagus! My sister-in-law made this recipe for our Memorial Day get together and I wasted no time in getting the recipe from her! Mike and I both love asparagus, but we always eat it the same old way. (This is how we usually cook it, if you're curious). This recipe takes a little bit of extra planning, but adds a lot of extra flavor. It's completely worth it, especially when you realize that start to finish, cooking asparagus this way still takes less than 15 minutes. The combination of lemon zest, pine nuts and parmesan cheese is irresistable, and yet this still tastes like a light and fresh side dish. It doesn't get much better than that! I wish I'd discovered this recipe earlier this Spring, but I know I'll be making this at least a few more times before the asparagus disappears from the store!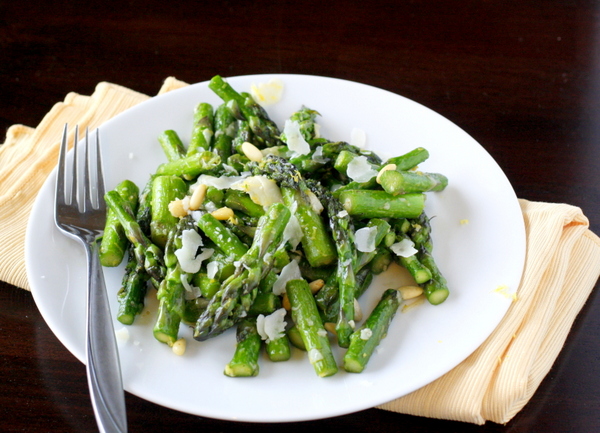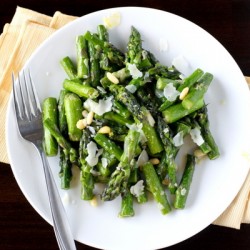 Asparagus with Lemon, Pine Nuts and Parmesan
Yield: Serves 4
Total Time: 15 minutes
Ingredients:
2 Tbsp pine nuts
2 Tbsp olive oil
2 pounds asparagus (2 bunches) trimmed and cut into 2-inch pieces
salt and pepper
1 tsp lemon zest
1 oz Parmesan, shaved
Directions:
Heat the oven to 350. Spread the pine nuts on a rimmed baking sheet and toast, tossing once, until goden, 4-5 minutes.
Heat the oil in a large skillet over medium heat. Add the asparagus and 1/4 tsp each salt and pepper and cook, tossing occasionally, until tender, 4-6 minutes. Add the pine nuts and toss to combine. Sprinkle with the lemon zest and Parmesan. Serve immediately.