Better than a Box Mix Vanilla Cupcakes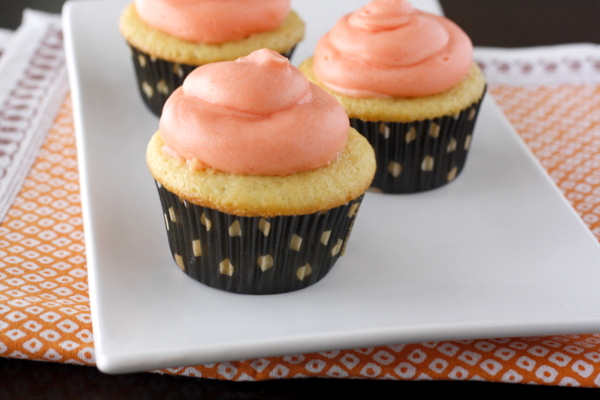 I am always on the lookout for new cupcake recipes, and I'm so happy to have found this one!  So often I try a new cake or cupcake recipe only to realize that it was a lot of extra work and not much better than what I could get from a box. Well, I'm here to tell you that these vanilla cupcakes truly are better than a box mix. They are light and fluffy and full of flavor. So many "from scrach" vanilla cupcakes come out dry and dense, but not these! Plus, they stayed moist for quite awhile. I made half the batter into a cake for my Wilton class, and we were still eating the cake days later. This truly is the best vanilla cupcake recipe I've found and it will be my go-to recipe from now on.
p.s. – ignore the peach colored frosting. It was hanging out in the freezer from a wedding I did recently, so I thought I should put it to good use. 🙂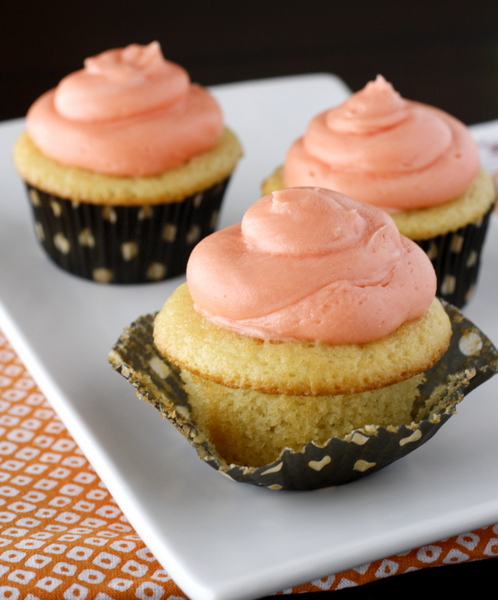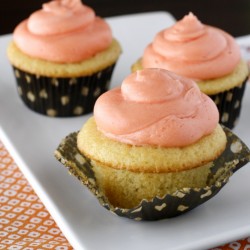 Better than a Box Mix Vanilla Cupcakes
Yield: makes about 15 cupcakes
Ingredients:
1 1/4 cups cake flour
1 1/4 tsp baking powder
1/2 tsp baking soda
1/2 tsp salt
2 large eggs
3/4 cup sugar
1 1/2 tsp pure vanilla extract
1/2 cup canola oil
1/2 cup buttermilk
Directions:
Preheat the oven to 350 degrees F and line a cupcake/muffin pan with cupcake liners.
In a medium bowl, whisk together the cake flour, baking powder, baking soda, and salt. Set aside.
In the bowl of an electric mixer, beat the eggs on medium speed until blended, about 15-20 seconds. Add sugar and continue to beat on medium speed for about 30 seconds. Add vanilla and oil and beat until well mixed. Reduce mixer speed to low and slowly add about half of the flour mixture. Add half of the buttermilk, then the rest of the flour mix and the rest of the milk. Beat until just combined, scraping down the sides of the mixing bowl. The batter should be thin.
Divide evenly among the muffin cups, filling about 2/3 full, and bake for 13-15 minutes, or until the tops spring back when touched lightly. Let cool in the pan for a couple minutes, then remove to a wire rack to cool completely.