Peanut Butter Cup Blondies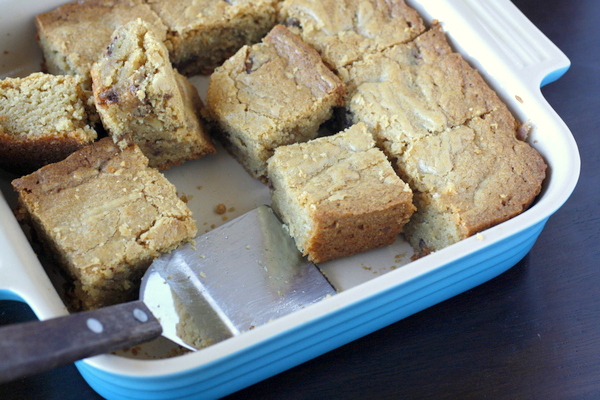 I can't help but start this post by telling you how absolutely wonderful these blondies are! I made them a few weeks ago and have been impatiently waiting to share them ever since, but then it became September and apple recipes took over. But now I seriously can't wait any longer without giving you this recipe. This is the best blondie recipe I've ever tried, and the addition of peanut butter cups just takes them over the top. The blondies are thick and chewy and completely decadent (as they should be with 2 sticks of butter in there!). If you're not a fan of peanut butter cups, feel free to switch it up and add chocolate chips or nuts or something instead; these are very customizable. Of course I think the peanut butter cup version is absolutely perfect though.

Best of all, these are very easy to make – so what are you waiting for? Mix up a batch of these blondies, then stop back here and let me know if you loved them as much as we did.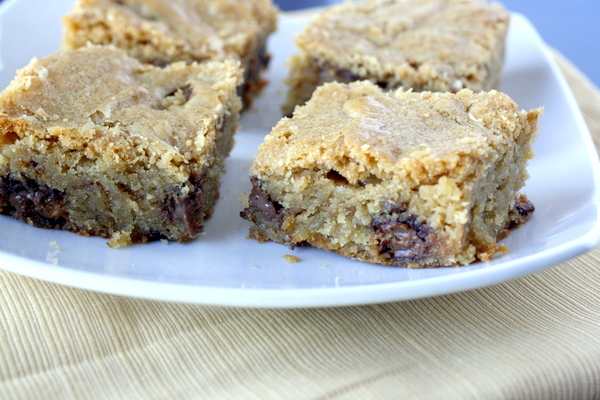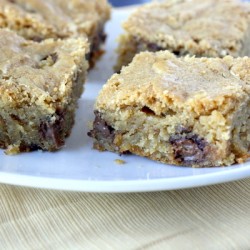 Peanut Butter Cup Blondies
Ingredients:
1 cup (2 sticks) unsalted butter, melted, plus more for the pan
2 1/2 cups all-purpose flour, spooned and leveled
1 teaspoon baking powder
1/2 teaspoon kosher salt
1 1/2 cups packed light brown sugar
2 large eggs
1 tsp pure vanilla extract
~ 9 grams chopped peanut butter cups (about 8 snack size)
Directions:
Heat oven to 350. Butter an 8-inch square pan and set aside.
In a medium bowl, whisk together the flour, baking powder and salt. Set aside.
In a large bowl, whisk together the butter, brown sugar, eggs, and vanilla until smooth. Add the flour mixture and mix until just combined, being careful not to overmix. Fold in the chopped peanut butter cups.
Spread the batter in the prepared pan and bake until a toothpick inserted in the middle comes out clean, 40-45 minutes. Let cool completely in the pan before cutting.
from Real Simple Family 2012