Chocolate Chai Cupcakes with Cinnamon Cream Cheese Frosting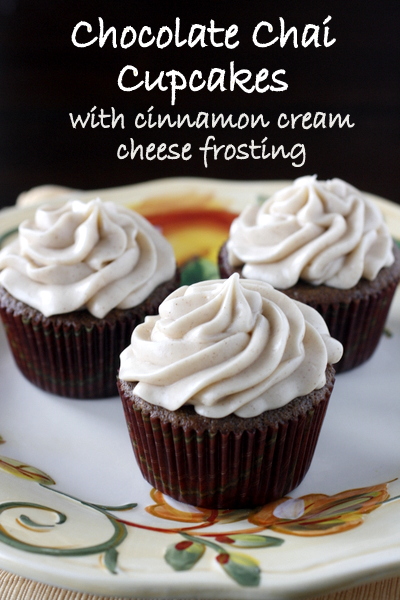 I've got a new cupcake recipe to share with you today! These chocolate chai cupcakes with cinnamon cream cheese frosting are so good! I found the recipe in an old taste of home magazine I had laying around the house, but they presented it as a recipe for chocolate chai mini loaves. I tried that, ended up with a messy disaster, and decided to re-think the recipe as cupcakes. It's definitely a cake recipe, not bread, and the cream cheese icing on top places these firmly in the dessert category. They are light and tender, and basically taste like a chocolate cupcake with a hint of spice. If you're looking for more of a spicy kick, I would try increasing the spices, but I really liked these "as-is". They make a great fall dessert, and they look fancy even though they're fairly easy. I would even go so far as to say they would make a great addition to your Thanksgiving dessert table!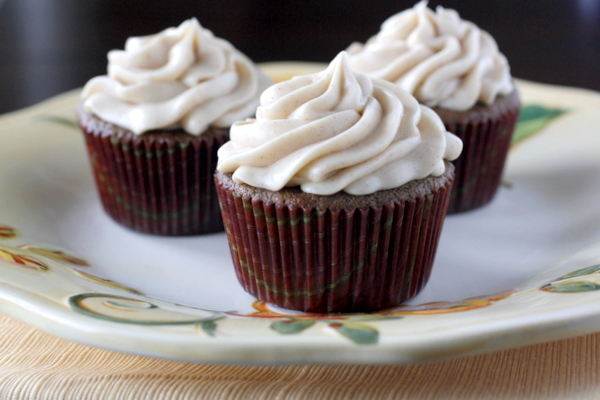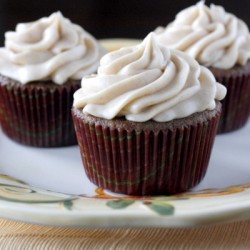 Chocolate Chai Cupcakes with Cinnamon Cream Cheese Frosting
Yield: Makes approximately 16-18 cupcakes
Ingredients:
Cupcakes
2 ounces semisweet chocolate, chopped
1/2 cup water
1/2 cup butter, softened
1 cup packed brown sugar
2 eggs
1 teaspoon vanilla extract
1-1/2 cups all-purpose flour
3/4 tsp ground cardamom
1 tsp ground cinnamon
1/4 tsp ground ginger
1/8 tsp cloves
1/8 tsp ground nutmeg
1 teaspoon baking soda
1/2 teaspoon salt
1/2 cup sour cream
Cinnamon Cream Cheese Icing
8 oz. cream cheese, softened
5 tbsp. unsalted butter, softened
2 tsp. clear vanilla extract
2½ cups confectioners' sugar, sifted
Cinnamon, to taste
Directions:
In a microwave, melt chocolate with the water; stir until smooth. Cool slightly. In a large bowl, cream butter and brown sugar until light and fluffy. Add eggs, one at a time, beating well after each addition. Beat in vanilla, then chocolate mixture.
Combine the flour, spices, baking soda and salt; add to creamed mixture alternately with sour cream.
Transfer to cupcake liners. Bake at 350° for 16-18 minutes or until a toothpick inserted in a center cupcake comes out clean. Cool for 5 minutes before removing from pans to a wire rack to cool completely.
For the frosting, combine the cream cheese and butter in the bowl of an electric mixer. Beat on medium-high speed until well combined and smooth, about 2-3 minutes. Mix in the vanilla extract then gradually beat in the confectioners' sugar until totally incorporated. Sprinkle in some cinnamon. Unfortunately, I didn't measure it, I just kept adding and mixing until I could see flecks of cinnamon throughout and it tasted right. Just start small and work your way up.

Increase the speed and beat until smooth. Frost cooled cupcakes as desired.
adapted from Taste of Home