Cranberry Orange Coffee Cake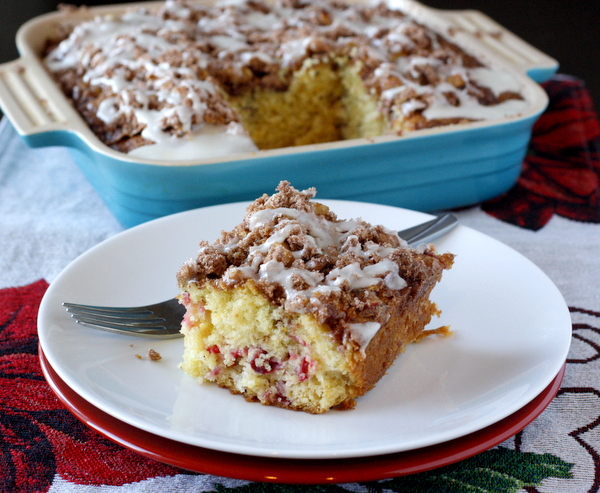 I can't believe the 12 Days of Christmas Treats is over already! It's a lot of work to make that many cookies, but it's so fun and I love seeing the reactions when I post them. I can always count on certain people to immediately ask for samples. 🙂  If you missed any of the cookies, you can find them here.  And now that's it's almost Christmas(!), I have a few more holiday themed recipes to share before I run out of time.
Cranberry and orange flavors always make me think of Christmas, and this coffee cake is no exception. The cake is nice and tender, and the cranberries add a nice tart flavor to counteract the sweetness of the rest of the cake. The topping is crumbly and full of cinnamon, and the icing adds another burst of orange flavor to the whole thing. I was a big fan of this cake and so was Mike.  I like that it makes a 9×9 rather than a 9×13, since we really do not need that much coffee cake around here. Even better, it stayed moist for days, so we had plenty of time to enjoy it. 🙂 If you're looking for a holiday breakfast treat or snack with your coffee, this cranberry orange coffee cake is for you.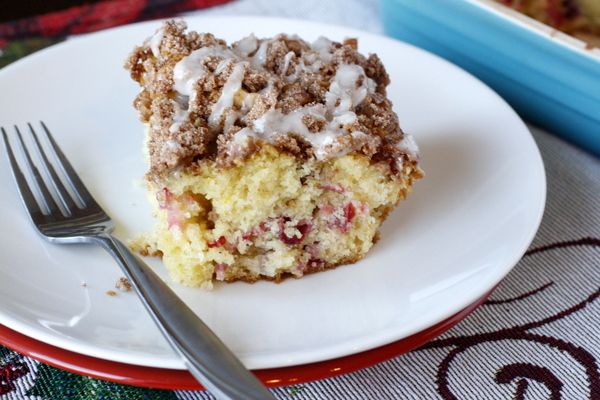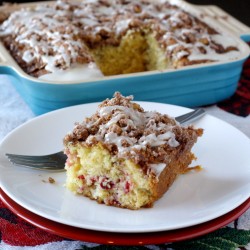 Cranberry Orange Coffee Cake
Ingredients:
Cake:
1/2 cup (8 tablespoons) unsalted butter
1 cup sugar
2 large eggs
1 teaspoon baking powder
1 teaspoon baking soda
3/4 teaspoon salt
zest of 1 large orange
2 cups All-Purpose Flour
1 cup sour cream or plain yogurt (not nonfat)
1 cup chopped fresh cranberries
Topping:
1/2 cup sugar
2 teaspoons ground cinnamon
2 teaspoons vanilla extract
1/2 cup chopped walnuts
Icing:
½ cup confectioners' sugar
¾ to 1 tablespoon orange juice
Directions:
Preheat the oven to 350°F. Grease and flour a 9" square pan and set aside.
Beat together the butter, sugar until creamy. Beat in the eggs, baking powder, baking soda, salt, and orange zest. Add the flour alternately with the sour cream or yogurt, stirring after each addition. Stir in the chopped cranberries. Spread the batter in the pan.
Stir together the topping ingredients, and sprinkle over the batter. Bake the cake for 45 to 50 minutes, or until a toothpick inserted into the center comes out clean. Remove the cake from the oven, place it on a rack, and let cool before adding the glaze.
To make the glaze, stir together the sugar and enough orange juice to make a pourable icing. Drizzle the glaze over the cooled cake.