Loaded Pizza Bread
I'm of the opinion that you really can't go wrong with pizza in any form, and this loaded pizza bread is no exception. We absolutely loved this! Loaded pizza bread consists of all the pizza toppings you love baked into a cheesy, golden brown loaf of bread.  We used peppers, shallots, pepperoni and mushrooms as our mix-ins, and of course plenty of mozzarella cheese, but feel free to use whatever toppings you want. I sliced the bread while it was still warm out the oven and we dipped it in homemade pizza sauce – so good! If you love pizza, I hope you try this loaded pizza bread for something a little different. I have no doubt you'll love it as much as we did.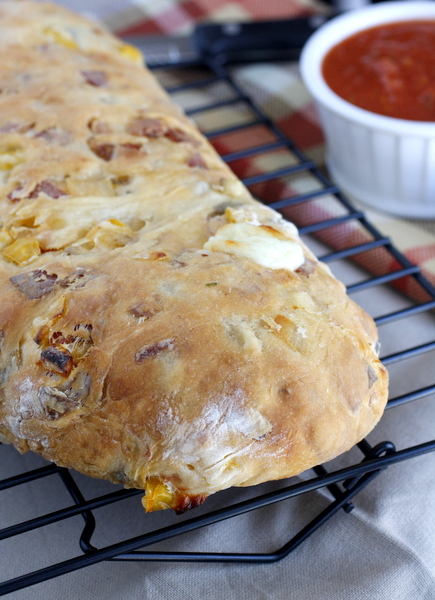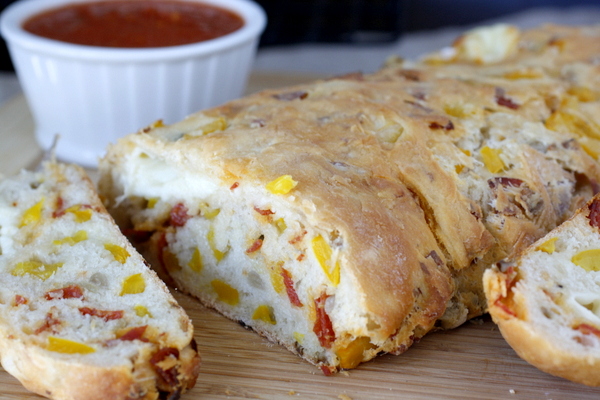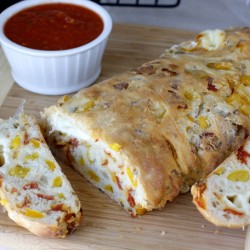 Loaded Pizza Bread
Ingredients:
1 teaspoon yeast
3/4 cup warm water
1 2/3 cups all-purpose flour
1 teaspoon kosher salt
1 1/2 - 2 cups of your favorite pizza toppings
8 oz. shredded mozzarella cheese
1 tablespoon olive oil
Pizza Sauce, for dipping
Directions:
*Note: If using pizza toppings that will give off water, like peppers and mushrooms, it's best to briefly saute them and let cool before adding to the dough.
Combine the yeast and water in a large bowl. Let it sit until foamy, 3-4 minutes, then add in flour and salt. Using a wooden spoon, stir just until it comes together. Using your hands, knead in the toppings, adding in some extra flour until the dough is only slightly sticky. Transfer dough to a lightly greased bowl and let rise until double in size about 1 hour.
Dust a piece of waxed paper with flour and turn the dough out onto it. Using flour as necessary, roll out into a rectangle about 11×17". Sprinkle cheese over top. Then, using the waxed paper, fold along the long side and seal the edges so cheese is not exposed. Let rest while you preheat oven to 450 degrees.
Bake the bread for 25-30 minutes, or until golden brown. About 3 minutes before taking it out, lightly brush the top with olive oil and let it finish baking. Let rest on a wire rack to cool slightly before slicing.