New York Style Crumb Cake
**Thank all SO MUCH for the kind words about our newest addition. Reading all of your sweet comments made me smile all weekend!!

If you are a coffee cake fan, you will love this New York style crumb cake! It is similar to the classic Entemann's crumb cake you can buy in the grocery store, but of course it's even better homemade.

The cake portion is light and fluffy and sweet, but the best part is the crumb topping! It's rich and buttery, and best of all, there's plenty of it. There's nothing worse than a coffee cake that skimps on the crumb topping! If you like crumb cake, this is the recipe for you – enjoy!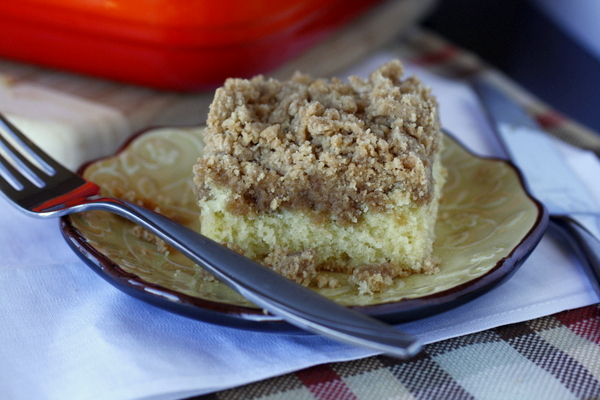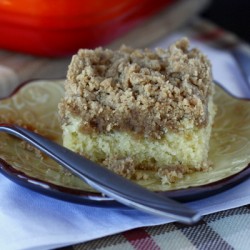 New York Style Crumb Cake
Yield: 12 Servings
Prep Time: 15 min
Cook Time: 40 min
Total Time: 55 min
Ingredients:
For the crumb topping:
1/3 cup granulated sugar
1/3 cup dark brown sugar
3/4 teaspoon ground cinnamon
1/8 teaspoon salt
8 tablespoons unsalted butter (1 stick), melted and still warm
1 3/4 cups cake flour
For the cake:
1 1/4 cups cake flour
1/2 cup granulated sugar
1/4 teaspoon baking soda
1/4 teaspoon salt
6 tablespoons unsalted butter (3/4 stick), cut into 6 pieces, softened but still cool
1 large egg
1 large egg yolk
1 teaspoon vanilla extract
1/3 cup buttermilk
Confectioners' sugar for dusting
Directions:
To make the topping: Whisk sugars, cinnamon, salt, and butter in medium bowl to combine. Add flour and stir with rubber spatula or wooden spoon until mixture resembles thick, cohesive dough; set aside to cool to room temperature, 10 to 15 minutes.
To make the cake: Adjust oven rack to upper-middle position and heat oven to 325° F. Spray an 8-inch square baking dish with nonstick cooking spray and set aside.
In bowl of standing mixer fitted with paddle attachment, mix flour, sugar, baking soda, and salt on low speed to combine. With mixer running at low speed, add butter one piece at a time; continue beating until mixture resembles moist crumbs, with no visible butter chunks remaining, 1 to 2 minutes. Add egg, yolk, vanilla, and buttermilk; beat on medium-high speed until light and fluffy, about 1 minute, scraping once if necessary.
Transfer batter to baking pan, spreading into an even layer. Break apart crumb topping into large pea-sized pieces between your thumb, pointer, and middle fingers and spread in even layer over batter, beginning with edges and then working toward center. Bake until crumbs are golden and wooden skewer inserted into center of cake comes out clean, 35 to 40 minutes. Cool on wire rack at least 30 minutes. Dust with confectioners' sugar just before serving.