Baked Apple Chips
These baked apple chips make a perfect healthy snack. They're incredibly simple to make and they taste great.  All you do is slice an apple really thin, and then bake the slices at a really low temperature until they turn nice and crispy. The actual baking part takes awhile, but the prep work only takes about 5 minutes. You can season them however you want, but I like them with a really light coating of cinnamon and sugar. Mike loves these and would eat them every day if I'd make them.  The best part is that they are so healthy you don't have to feel guilty for eating them. 🙂 Try them and let me know what you think!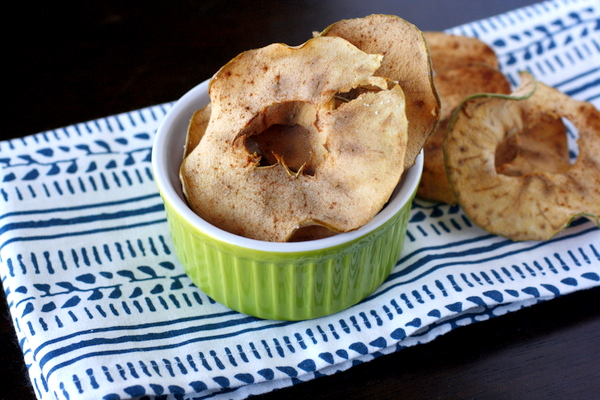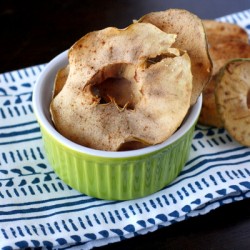 Baked Apple Chips
Ingredients:
1 apple (golden delicious or granny smith work best)
cinnamon and sugar for sprinkling
Directions:
Preheat oven to 225.
Core the apple and thinly slice with a mandolin.
Line a baking sheet with parchment paper and lay out the apple in a single layer. If necessary, use two baking sheets rather than overlap the apples.
Sprinkle the apple slices lightly with cinnamon and sugar.
Bake for 2 hours, flipping the apples after 1 hour. Turn off the oven and let the apples cool completely before removing from the oven.