Banana Split Dessert
I have got a treat for you today! It doesn't get much better than this banana split dessert. Think layers of graham cracker crust, cream cheese filling, sliced fruit and whipped cream. And of course peanuts, chocolate sauce and cherries on top!  I made this dessert for our Memorial Day get together and everyone loved it. If you love tried and true desserts, this one is for you. I found the original recipe when I was digging through my mom's old pile of handwritten recipes and I think it originated from my aunt. That version used raw eggs, however, which didn't really appeal to me. So I switched out the middle layer, kept the rest, and the end result is the the dessert you see here. This banana split dessert is a great one to feed a lot of people, and a definite crowd-pleaser – I hope you try it!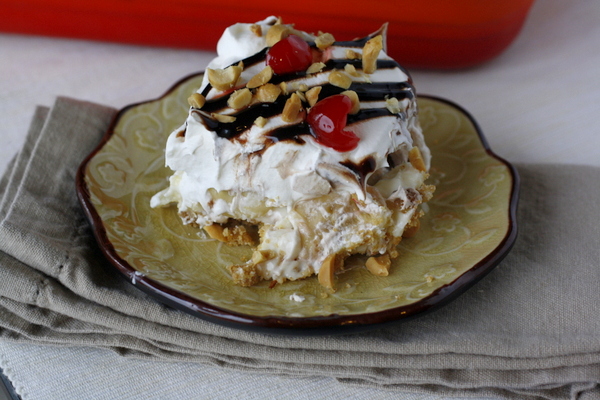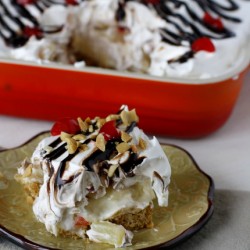 Banana Split Dessert
Ingredients:
2 cups crushed graham crackers
1/2 cup sugar
1/2 c. butter, melted
16 oz. cream cheese, softened
1 cup sugar
1 teaspoon vanilla
3-4 bananas, sliced
1 (20-ounce) can pineapple tidbits, drained and juice saved
16 ounces strawberries, hulled and sliced
12 ounces whipped topping
1/2 cup chopped peanuts
Chocolate syrup
Maraschino cherries
Directions:
Preheat the oven to 350. In a medium sized bowl, combine the graham cracker crumbs, melted butter, and sugar, stirring until all of the crumbs are evenly moistened. Press into an even layer in a 9x13 pan. Bake for 15 minutes. Let cool completely.
In a large bowl, cream together the cream cheese, sugar and vanilla. Spread on top of the cooled crust. Arrange the banana slices in a single layer on top of the cream cheese filling. (*If you want to be sure your banana doesn't brown, dip the slices in the reserved pineapple juice before layering.)
Top with an even layer of the pineapple, and then an even layer of the sliced strawberries. Cover with the whipped topping. Sprinkle with the chopped peanuts, then drizzle with chocolate syrup and top with maraschino cherries.
Refrigerate for at least 4 hours, or overnight.