Roasted Strawberry Muffins
I'm sharing these roasted strawberry muffins with you in anticipation of strawberry season. There are just a few short weeks until it's time to go strawberry picking, but in the meantime I had to try something new with all of the strawberries on sale in the grocery store. These roasted strawberry muffins were pretty easy to make, and definitely fun to eat!  I normally don't like baking with strawberries because they tend to make things so mushy, but roasting the strawberries first gets out a lot of their juice and makes them much easier to bake with. The end result was a delicious muffin with chunks of strawberries throughout – perfect for a nice Summer breakfast! And don"t skip the crunchy sugar topping – it's my favorite part! 🙂
p.s. Looking for more strawberry recipes? Try this strawberry summer cake!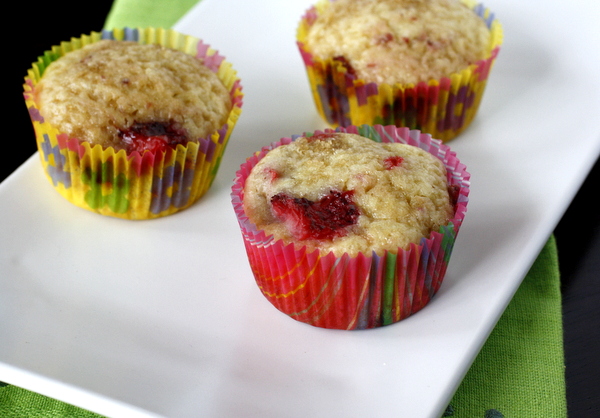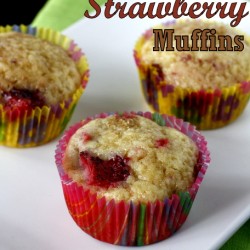 Roasted Strawberry Muffins
Ingredients:
1 lb. strawberries, rinsed, hulled and cut into bite sized pieces
1 cup sugar, plus a pinch for roasting
Milk, if needed
2 cups all-purpose flour
1 1/2 tsp. baking powder
1/2 tsp. salt
1/2 cup plain yogurt
2 large eggs
2 tsp. vanilla extract
8 tbsp. unsalted butter, melted and cooled slightly
Coarse sugar, for topping (optional)
Directions:
Preheat the oven to 400˚F. Line a baking sheet with foil and spread the berries out on the baking sheet. Sprinkle with a small amount of sugar and toss gently to mix. Roast, stirring once or twice, until the berries are tender and have released most of their juices, about 20-22 minutes. Using a colander, strain the berries, reserving the excess juices. Add enough milk to the reserved juice to make 6 tablespoons total of liquid.
Lower the oven temperature to 350˚ F and line muffin pans with enough paper liners to make 16 muffins. In a medium bowl, whisk together the sugar, flours, baking powder and salt. Set aside. In a large bowl, combine the reserved strawberry juice/milk, yogurt, eggs, and vanilla extract. Stir in the melted butter. Add the dry ingredients to the wet ingredients and mix until just combined. Gently fold in the strawberries.
Divide the batter between the prepared muffin liners and sprinkle the tops with coarse sugar. Bake, rotating the pans halfway through, until the muffins are set and a toothpick inserted in a center muffin comes out with moist crumbs, about 18-20 minutes. Let cool in the pans 5 minutes, then transfer to a wire rack to cool completely.