Blackberry Chip Ice Cream
I have made a lot of homemade ice cream this summer, but I can honestly say that this blackberry chip ice cream is my favorite! Mike agrees and even told me its the best ice cream I've ever made. It's a custard ice cream, which means it is incredibly creamy. Custard style ice creams are definitely a little extra work, but they are so worth it.  The blackberry flavor is perfectly sweet, and you can't beat the pretty purple color of the ice cream. 🙂 The mini chocolate chips gave the ice cream a little crunch, and really, you can't go wrong with blackberries and chocolate, right? I hope you try this one – I'm guessing it might be your new favorite ice cream as well!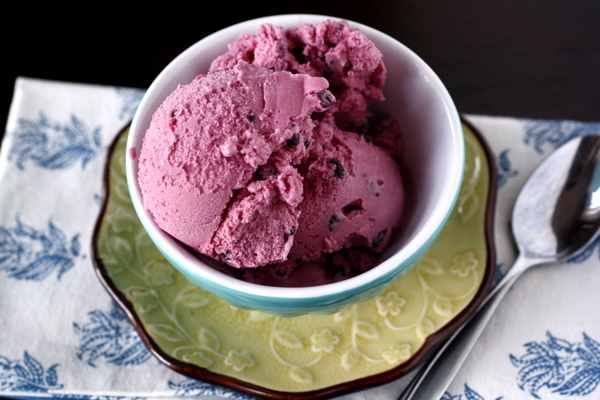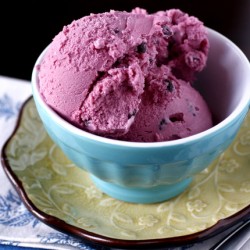 Blackberry Chip Ice Cream
Ingredients:
2 pints fresh blackberries
1 1/4 cups sugar
Juice of 1/2 lemon
1 1/2 cups half-and-half
5 egg yolks
1 1/2 cups heavy cream
4 ounces mini chocolate chips (or chopped semi-sweet chocolate)
Directions:
Combine the blackberries, 1/4 cup of the sugar and the lemon juice in a saucepan. Cook over low heat until the blackberries are broken down and syrupy, about 20 minutes. Pour the mixture into a bowl through a fine mesh strainer. Using a whisk or spoon, force out as much of the deep purple liquid as you can, and then set it aside to cool. Discard the blackberry pulp and seeds.
Heat the half-and-half and remaining 1 cup sugar in a saucepan over medium heat. In a separate bowl, using a whisk, beat the egg yolks until pale and thick. Temper the eggs by splashing a small amount of the warm cream into the yolks, whisking constantly. Pour the tempered yolks into the saucepan, stirring gently. Cook over medium-low heat until thick, stirring constantly, about 5 minutes.
Pour the heavy cream into the bowl with the berries, and then pour in the custard and stir to combine. Refrigerate until cool.
Freeze the mixture according to your ice cream maker's instructions. Stir in the chocolate at the end. Transfer the ice cream to a freezer-safe container and allow it to harden for several hours or overnight.
from Food Network Magazine