Slow Cooker Shredded Chicken Tacos with Cilantro and Lime
I have got a super easy slow cooker meal to share with you today! These crockpot shredded chicken tacos are so easy to throw together, and they taste great.
The addition of cilantro and lime adds a nice fresh flavor, and you can't beat a crock pot meal that takes 5 minutes to prepare!
Everyone loves chicken tacos, and this easy recipe is sure to be a family favorite. Don't forget to add all of your favorite taco toppings – these tacos would be perfect with extra cilantro, avocado, tomatoes, etc.
The recipe calls for a packet of taco seasoning, but if you often find those too salty, I would start with 1/2 or 3/4 of a packet and go from there. Or, of course, you could always make your own and add salt to taste. 🙂
No matter how you make it, I'm pretty sure these chicken tacos will be a hit!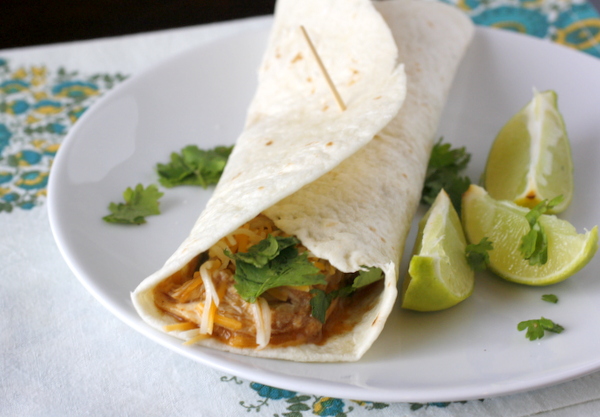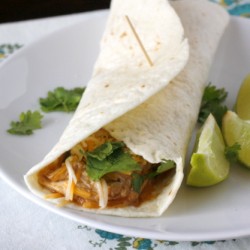 Crockpot Shredded Chicken Tacos with Cilantro and Lime
Ingredients:
1 lb. boneless skinless chicken breasts
juice from 2 limes, plus extra for topping
1/2 cup of cilantro, roughly chopped, plus extra for topping
1 packet of taco seasoning
1 tsp dried onions
1/2 cup of water
Assorted taco toppings
Directions:
Add all ingredients except the toppings to the Slow Cooker. Cook on low for 6-8 hours.
Shred the chicken with two forks and mix well with the juices in the crockpot.
Spoon chicken into soft taco tortillas. Squeeze a little extra lime juice on the meat and top with cheese, sour cream, salsa, tomatoes, and extra cilantro.