Two-Cheese Mac and Cheese
You can't go wrong with a dish as simple and classic as mac and cheese! When I saw this two-cheese mac and cheese on the cover of the latest issue of cooking light, I knew I had to try it. I made it for lunch last weekend and Mike and I both loved it. It only took about 20 minutes to make, and the end result was cheesy and creamy and delicious.  I especially liked that it didn't call for fancy, hard to find cheese. It's nice that it's a little healthier than other versions too! The leftovers were great when reheated, which pretty much guarantees that this dish will be make it into our regular rotation.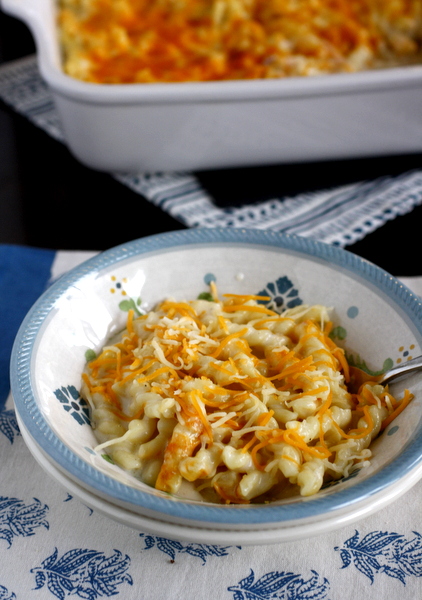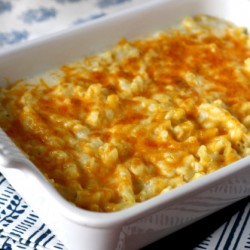 Two-Cheese Mac and Cheese
Ingredients:
10 ounce large elbow macaroni or other pasta (I used gemelli)
2 tablespoons canola oil
3 garlic cloves, minced
2 1/4 cups low sodium chicken stock, divided
1/2 cup 2% reduced-fat milk
8 teaspoons all-purpose flour
4 ounces 1/3-less-fat cream cheese
1/2 teaspoon salt
1/4 teaspoon freshly ground black pepper
Cooking spray
3 ounces extra-sharp cheddar cheese, shredded (about 3/4 cup)
Directions:
Cook pasta according to package directions. Drain and set aside. Preheat broiler to high.
Heat a Dutch oven over medium heat. Add oil and garlic to pan and cook, stirring, 3 minutes or until garlic is fragrant, but not brown. Stir in 1 cup stock. Bring to a boil and cook 1 minute. Whisk together remaining 1 1/4 cups stock, milk, and flour until flour dissolves. Add to the garlic mixture, stirring with a whisk. Bring to a boil; cook 5 minutes or until mixture begins to thicken.
Remove milk mixture from heat; add cream cheese, stirring until smooth. Stir in salt and pepper. Add cooked pasta to milk mixture, tossing to coat. Let stand 5 minutes.
Pour pasta mixture into a 2-quart baking dish coated with cooking spray. Sprinkle cheddar evenly over pasta mixture. Broil 3 minutes or until cheese melts and begins to brown. Let stand 5 minutes before serving.
from Cooking Light, September 2013