Chocolate Toffee Shortbread Bars
Day 3 of the 12 Days of Christmas Treats! I am so excited to share these chocolate toffee shortbread bars with you. I had a feeling I would like these bars, but I had no idea just how much I would love them.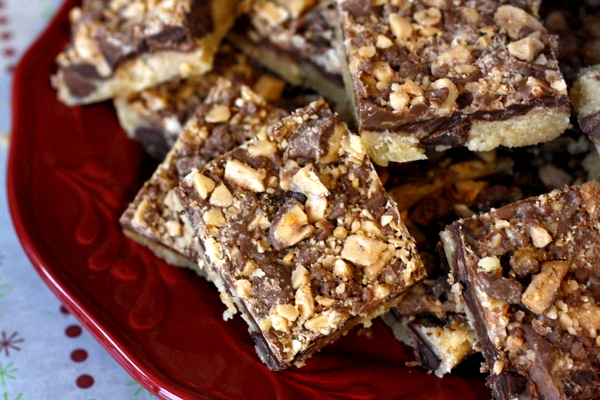 The shortbread crust is absolutely melt-in-your-mouth perfect. The topping consists of melted chocolate and toffee bits and brings the perfect amount of sweetness to the shortbread. The whole thing just kind of crumbles into deliciousness when you take a bite.
Be careful though – they're addicting! They also freeze beautifully, and as a side note, they taste great right out of the freezer as well. 🙂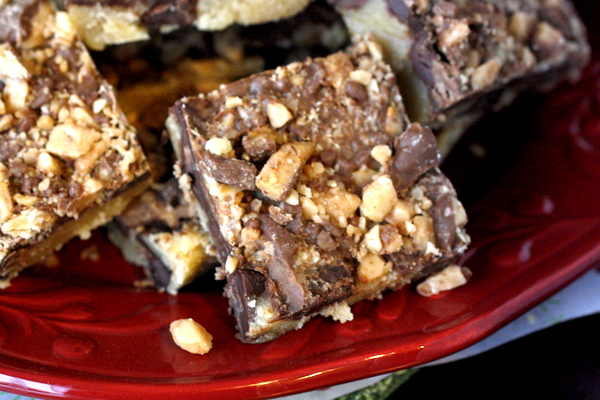 Click here to see the rest of the 12 Days of Christmas Treats 2013. Or you can see all of my Christmas treat recipes from over the years at this Christmas Cookies tag. Enjoy! And, as always, let me know if you try any and how you liked them.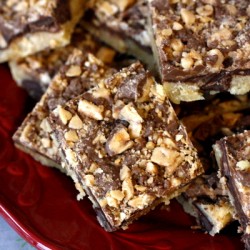 Chocolate Toffee Shortbread Bars
Ingredients:
1 1/2 cups all-purpose flour
1/2 teaspoon salt
1/4 teaspoon ground cinnamon
2 sticks (1 cup) butter, at room temperature
1/2 cup packed brown sugar
1/4 cup granulated sugar
1 teaspoon pure vanilla extract
1/2 cup chocolate chips (bittersweet, semisweet or milk chocolate)
Topping:
1 cup chocolate chips (bittersweet, semisweet, or milk chocolate)
1 1/2 cups toffee bits
Directions:
Preheat the oven to 375 degrees.
Make the crust: In a medium sized bowl, whisk together the all-purpose flour, salt, and cinnamon. Set aside. Place the butter in the bowl of a stand mixer and beat until the butter is smooth. Add the brown and granulated sugars and beat until creamy, about 3 minutes. Add the vanilla and mix briefly. Gradually stir in the flour mixture until almost incorporated. Add the 1/2 cup of chocolate chips to the mixer and mix until the rest of the dry ingredients are incorporated, being careful not to over-mix.
Line a 9 X 13-inch pan with foil and lightly grease the foil. Scrape the dough into the prepared pan and press down the mixture with a spatula and/or your fingertips. Bake for 18-20 minutes, or until the crust is bubbling. Remove the crust from the oven and sprinkle the 1 cup of chocolate chips over the hot bars. Cover the pan with foil and let sit 5 minutes to let the chocolate melt. Spread the softened chocolate over the crust using an offset spatula. Sprinkle the toffee pieces over the chocolate and press down gently with your fingers.
Let the bars cool to room temperature before cutting. If the chocolate is not set by the time the bars are cool, you can refrigerate the pan for 20 minutes or so. Using the edges of foil as handles, lift the bars out of the pan and cut into bars.