Slow Cooker French Dip Sandwiches
These slow cooker french dip sandwiches make a great, easy (and somewhat healthy!) meal. Tender meat, crusty french bread, a little mozzarella cheese, and you can't go wrong. And of course you can't forget the component that makes a  french dip sandwich truly delicious – the flavorful sauce to dip it in! 🙂  I made this meal for my parents when I was visiting a while back, and everyone loved it. It's simple, tasty and filling. Serve with a side salad and you've got a healthy, well-rounded meal. I definitely recommend serving the sandwiches on the baguette slices as suggested – we all agreed that the chewy, crusty bread was one of the best parts!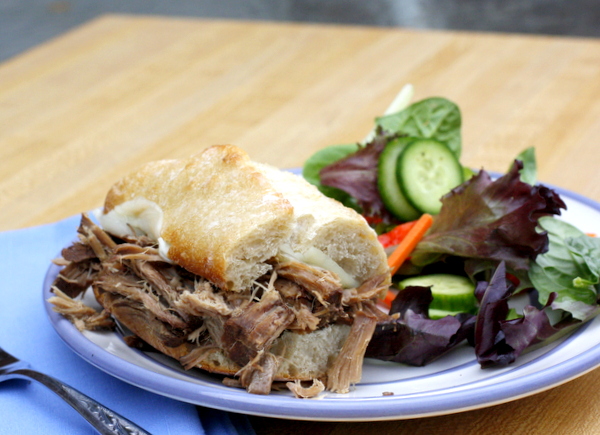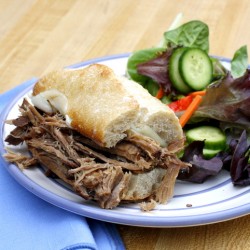 Slow Cooker French Dip Sandwiches
Ingredients:
2 cups low-sodium beef broth
1 medium onion, sliced
2 cloves garlic, smashed
2 tablespoons Worcestershire sauce
1 tablespoon all-purpose flour
1 1/2 pounds beef brisket, trimmed
kosher salt and black pepper
1 large baguette—cut into 4 pieces, split horizontally
4 slices mozzarella cheese
Directions:
Combine the broth, onion, garlic, Worcestershire, and flour in the bottom of a slow cooker. Season the brisket with 1/2 teaspoon salt and 1/4 teaspoon pepper and place in the slow cooker. Cover and cook until very tender, on low for 7 to 8 hours or on high for 4 to 5 hours.
Ten minutes before serving, transfer the brisket to a cutting board and thinly slice against the grain. Strain the cooking liquid into a small saucepan and reserve the onions. Boil the cooking liquid until reduced to 1½ cups, 5 to 7 minutes.
Place mozzarella slices on the baguette pieces and put under low broil until cheese is melted and baguette is lightly toasted.
Dividing evenly, form sandwiches with the baguette, brisket, and reserved onions. Serve with the cooking liquid, for dipping.