Amish Cinnamon Bread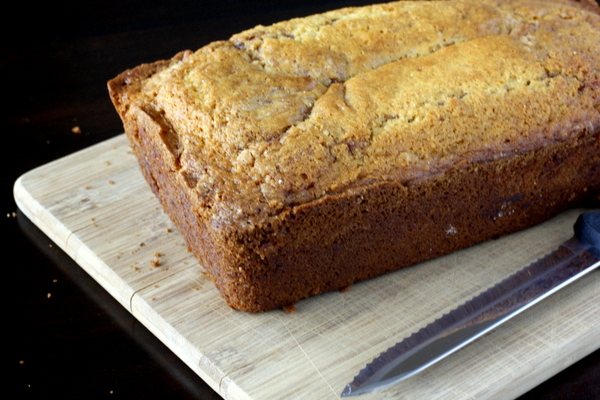 You are going to love this Amish cinnamon bread! It is so good and so easy. A few weeks ago I saw  a random picture on facebook of this delicious looking cinnamon bread, and quickly started googling to find some recipe inspiration. As it turns out there are recipes all over the internet for Amish cinnamon bread. I picked one that looked good and, since I had all the ingredients on hand, immediately set to work. And it was so good! I somehow managed to leave the salt out of the first loaf, which gave me a good excuse to make it again. Thankfully it's super quick and easy to make.

(Note: the first loaf was fine, but the recipe is definitely better with salt!) I'm glad we had lots of people to share this bread with, because it would have been dangerous for Mike and me to be left with it all to ourselves. Everyone that tried it loved it, and I'm happy to be sharing the recipe with you here. I hope you enjoy it.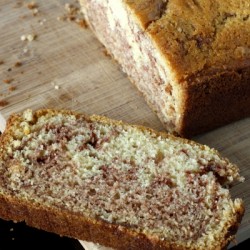 Amish Cinnamon Bread
Ingredients:
1/2 cup butter, softened
1 cup sugar
1 large egg
1 cup buttermilk
2 cup flour
1 tsp baking soda
1/2 tsp salt
Cinnamon/sugar mixture:
1/3 cup sugar
1 tsp cinnamon
Directions:
In a large bowl, cream together butter, 1 cup of sugar, and eggs. Add buttermilk, flour, and baking soda and mix well. In a small bowl, mix together the 1/3 cup sugar and cinnamon and set aside.
Put 1/2 of batter into greased loaf pan. Sprinkle 3/4 of cinnamon mixture on top of the batter. Add remaining batter to pan. Sprinkle with last of cinnamon topping and swirl with a knife.
Bake at 350 degrees for 45-50 min. or until a toothpick inserted in the center comes out clean. Cool in pan for 10-20 minutes, then remove to a wire rack to cool completely.