Pasta with Asparagus and Feta Cheese
This recipe for pasta with asparagus and feta cheese makes a great spring meal. I love this time of year when asparagus is both plentiful and cheap. 🙂 When I saw a recipe for asparagus pasta on Pinterest, I knew it was one I needed to try. Mike refuses to eat feta cheese (his loss), so I made this recipe when he was out of town and my mom was visiting. Well, in the spirit of complete honesty, my mom made this recipe – I just photographed it and ate it. 🙂 To say we loved it would be an understatement. It was so quick and easy to prepare, and surprisingly full of flavor from such simple ingredients. It is a nice light and healthy meal, and the leftovers were still delicious the following day.  If I can convince Mike to eat it, this will be one recipe I make again and again.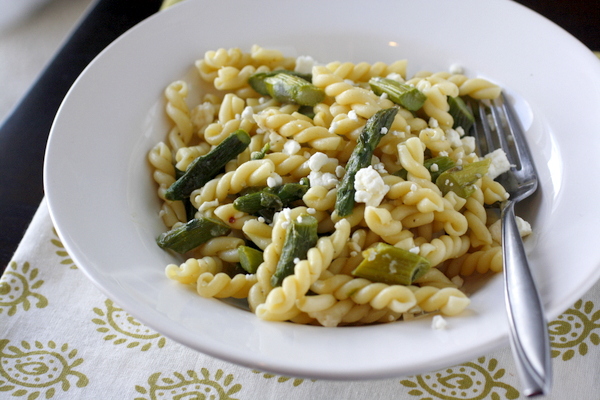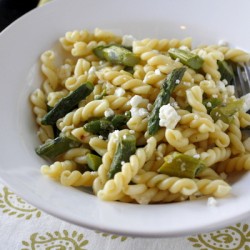 Pasta with Asparagus and Feta Cheese
Ingredients:
1 large bunch asparagus, sliced on a diagonal into 1″ pieces
1 tbsp extra virgin olive oil
3/4 cup feta cheese crumbles
4 cups dry whole wheat fusilli pasta
1/3 cup cooking water (from pasta)
2 cloves garlic, minced
pinch of red pepper flakes
sea salt
handful of fresh basil, chopped
Directions:
Bring a large pot of salted water to a boil. Add pasta and cook according to package directions. Drain, reserving 1/3 cup of the cooking water. Set aside.
Heat the olive oil in a large skillet over medium-high heat. Add the asparagus and saute until bright green but still slightly crisp, 4-5 minutes. Add minced garlic and saute for 30 seconds. Add hot cooked pasta, feta cheese, red pepper flakes, salt and pepper. Add a splash of the cooking water and stir well. If pasta looks dry, add another splash of the reserved cooking water. Sprinkle on the fresh basil and serve immediately.