Whole Wheat Pumpkin Pancakes
I first started making these whole wheat pumpkin pancakes last spring. I was looking for a good whole wheat pancake recipe to feed to Zeke, and figured that the addition of pumpkin only made these healthier. Spring didn't seem like the right time to share this wonderful recipe on the blog, and so I've been saving these pancakes to share with you in the height of pumpkin season. 🙂
I love making pancakes for breakfast, this whole wheat pumpkin version has been a favorite for awhile now. I love the combination of whole wheat, pumpkin, and cinnamon – the whole wheat makes them healthy, and the pumpkin and cinnamon make them delicious! The pancakes are light and fluffy, and taste nice and warm and filling. Thankfully Zeke loves these as much as we do, making the arduous task of feeding a toddler just a little bit easier. 🙂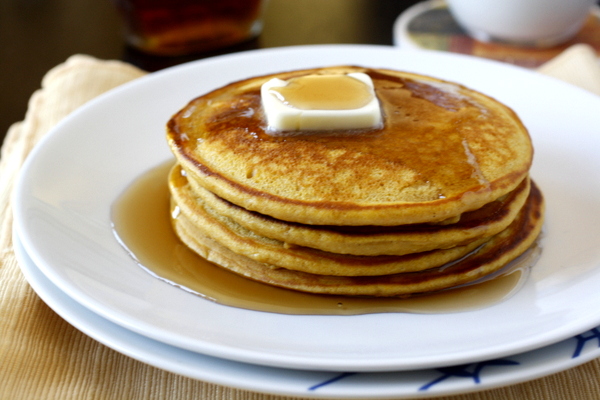 And in case you didn't catch it on Facebook, here is my little taste-tester helping himself to the plate of pancakes. 🙂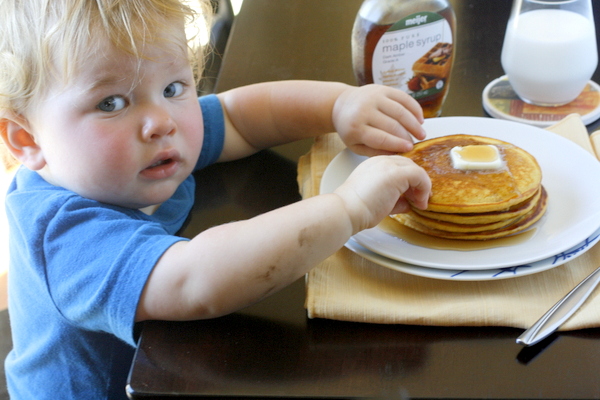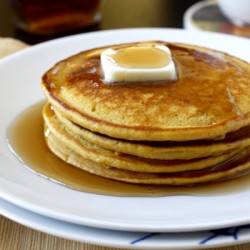 Whole Wheat Pumpkin Pancakes
Ingredients:
3 eggs
1/3 cup brown sugar
1/3 cup olive oil
1 1/2 cups buttermilk
1/2 cup pumpkin puree
2 teaspoon vanilla
2 cups whole wheat flour
1/2 teaspoon cinnamon
dash of nutmeg
dash of ground cloves
2 tablespoons (yep) baking powder
1/2 teaspoon salt
1/4 cup water
Directions:
In a large bowl, whisk together the eggs, brown sugar, and olive oil. Add the buttermilk, pumpkin puree, and vanilla and whisk until smooth.
In a separate bowl, whisk together the flour, cinnamon, nutmeg, cloves, baking powder, and salt. Stir the dry ingredients into the wet just incorporated. Add the water and stir until combined.
Grease your skillet with butter or cooking spray and heat over medium-high heat. Pour batter onto the hot griddle and cook for 3-5 minutes per side, until the edges start to look dry and a little more firm. Flip the pancakes and finish cooking for 1-2 minutes on the other side.