Sweet Potato Biscuits
Thanksgiving is coming up quickly and we have a big dinner planned with Mike's extended family. I figured it's about time to start thinking about what I'll bring and start brainstorming some Thanksgiving-friendly recipes. That's where these sweet potato biscuits come in. I made these last weekend for a late brunch after church, and they were wonderful! Buttery and fluffy and just the slightest bit sweet. I love that the addition of the sweet potato makes these otherwise traditional biscuits into something that is perfect for this time of year. The biscuits are simple to make, especially if you think ahead and already have a sweet potato cooked and ready to go in the fridge. If not, you can cheat and microwave it until it's soft. 🙂 They definitely taste best warm out of the oven, but I had great success reheating them in the toaster oven as well. If you're looking for traditional biscuits with a fall twist, give these sweet potato biscuits a try. They are definitely worthy of a spot on your Thanksgiving table!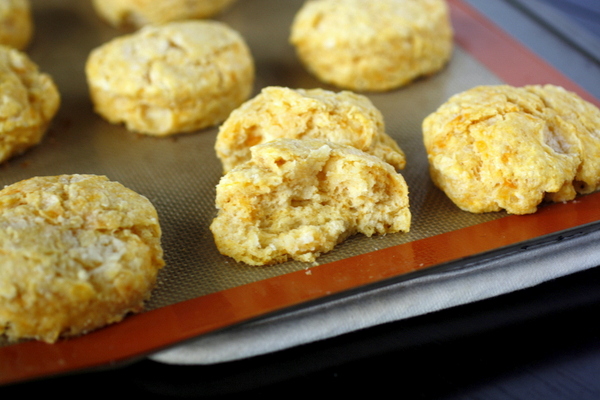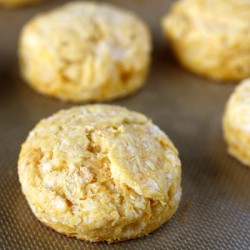 Sweet Potato Biscuits
Ingredients:
2/3 cup cooked, mashed sweet potato
1/2 cup whole milk
1 3/4 cup all purpose flour
2 Tbsp brown sugar
1 Tbsp baking powder
1 tsp salt
6 Tbsp unsalted butter, cut into small cubes
Directions:
Preheat oven to 425. In a small bowl, mix together the sweet potato and milk until smooth. Set aside.
In a large bowl, whisk together the flour, brown sugar, baking powder and salt. Cut in the butter with a pastry blender until the mixture is crumbly. Stir in the sweet potato mixture just until the dough begins to come together. (You may need to add a little extra milk if the dough is too dry, or a little extra flour if the dough is too wet. It should just barely come together)
Transfer the dough to a floured surface and knead 2 or 3 times until the dough forms a rough ball. Be careful not to overwork. Pat the dough out into a circle that is about 3/4 of an inch thick. Cut the dough into biscuits, transferring them to a parchment lined baking sheet. Carefully re-roll the scraps and continue to cut biscuits.
Bake 12-13 minutes, or until lightly golden brown. Serve warm or at room temperature.
This post was sponsored by the United Dairy Industry of Michigan, but as always, all opinions are my own. I personally love working for UDIM because Milk is a local food, produced by hardworking Michigan farm families. That means cheese, yogurt and other dairy foods are local too! Follow UDIM on Facebook, Pinterest, and Twitter to find out why Milk Means More.