Greek Yogurt Mac and Cheese
I'm taking a break from all things pumpkin and apples to bring you this creamy Greek yogurt macaroni and cheese. I love making homemade mac and cheese. It's one thing that Zeke will eat without fail, and I feel better serving him my homemade versions instead of the stuff in the blue box (although we love that too).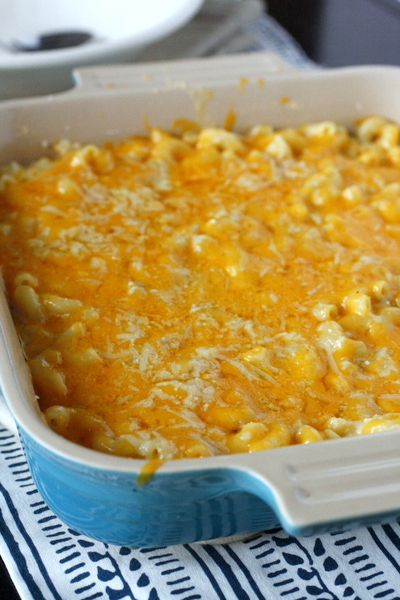 This version is extra creamy, and a little bit healthier, thanks to the addition of Greek yogurt. The yogurt adds plenty of creaminess without adding too many calories. Plus it adds just a little bit of tanginess, which I really liked. There is still plenty of cheese flavor, thanks to the freshly grated sharp cheddar, but the mac and cheese definitely tasted a little less "heavy" than more traditional versions. This was a hit with everyone, even my husband who won't touch Greek yogurt with a ten foot pole. And the toddler was just excited to see mac and cheese on his plate – he certainly wasn't questioning how creamy or healthy it was. 😉 I'll definitely be making this one again and again, and I hope you will too.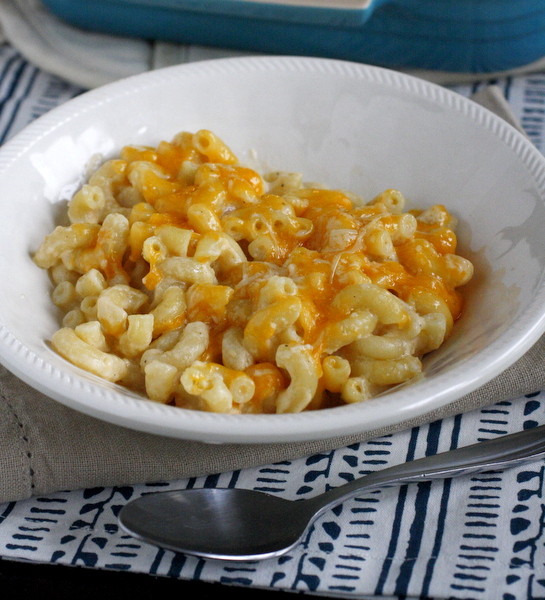 p.s. – like using Greek yogurt in recipes? Find more at Milk Means More. 🙂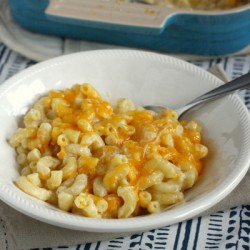 Greek Yogurt Mac and Cheese
Yield: Serves 4, as a side dish
Creamy and healthy macaroni and cheese made with Greek yogurt
Ingredients:
8 oz elbow macaroni
1 Tbsp unsalted butter
1 Tbsp flour
1/2 tsp salt
1/4 tsp black pepper
1 cup milk (I used 2%)
1 1/2 cups shredded sharp cheddar cheese, divided
1/2 cup plain Greek yogurt
1/4 cup freshly grated Parmesan cheese
Directions:
Cook pasta according to package directions. Drain and set aside.
Meanwhile, make the cheese sauce. Melt the butter in a medium sized pot over low heat. Stir in the flour, salt and pepper, and cook for one minute. Slowly add the milk, whisking to create a smooth sauce. Cook over medium heat until sauce begins to thicken. Turn heat to low. Slowly add 1 cup of the shredded sharp cheddar cheese, a little at a time, stirring until it is completely melted and incorporated. Stir in the pasta until it is coated with the cheese sauce, then stir in the Greek yogurt until completely incorporated.
Transfer pasta to an 8-inch baking dish coated with cooking spray. Sprinkle remaining cheddar and Parmesan on top. Broil 3 minutes or until cheese melts and begins to brown. Serve immediately.
This post was sponsored by the United Dairy Industry of Michigan, but as always, all opinions are my own. I personally love working for UDIM because Milk is a local food, produced by hardworking Michigan farm families. That means cheese, yogurt and other dairy foods are local too! Follow UDIM on Facebook, Pinterest, YouTube, Instagram, and Twitter to find out why Milk Means More.