Pumpkin Apple Spice Muffins
Don't you just love muffins that are covered in cinnamon sugar? Well these pumpkin apple spice muffins are even better – they are covered in a mixture of sugar and pumpkin pie spice! Yum!! These muffins are so good – they are easy to mix up, the recipe makes a lot, and they freeze wonderfully.  We love muffins over here, and these are some of our favorites! (Seriously, every time I'm in the kitchen Zeke says "you making me muffins Mommy??" He's obsessed.) I love that these are different than regular pumpkin muffins. The addition of the chopped apple gives them a great texture, and they are perfect for a fall breakfast or snack. They are moist and full of flavor and absolutely delicious. Enjoy! 🙂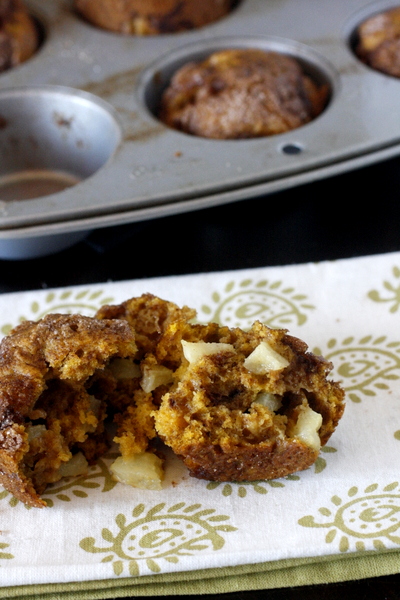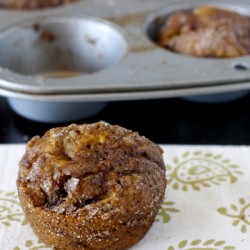 Pumpkin Apple Spice Muffins
Ingredients:
1 2/3 cups all purpose flour
1 cup sugar
1 Tbsp pumpkin pie spice
1 tsp baking soda
1/4 tsp salt
1/4 tsp baking powder
1 cup canned pumpkin
1/2 cup butter, melted
2 large eggs, lightly beaten
1 Granny Smith apple, peeled and finely chopped
For the topping:
1 tsp pumpkin pie spice
3 Tbsp sugar
Directions:
Preheat oven to 350. Line 2 12 cup muffin tins with paper liners.
Combine flour, sugar, pumpkin pie spice, baking soda, salt, and baking powder in a large bowl. In a separate bowl, mix together the pumpkin, butter, and eggs and add to dry ingredients, stirring just until moistened. Fold in chopped apple and spoon into greased muffin pans, filling two-thirds full. Combine the sugar and pumpkin pie spice for the topping and sprinkle evenly over muffins.
Bake for 20 minutes, or until a toothpick inserted in a center muffin comes out clean. Remove from pans immediately, and cool on wire racks.