Fettuccine with Roasted Tomato Sauce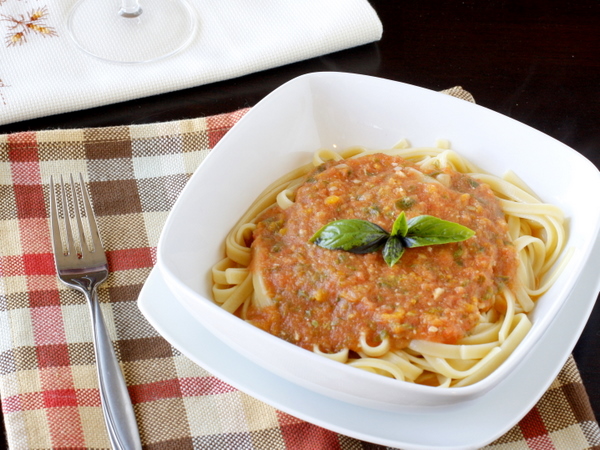 Meet my new favorite tomato sauce.  I have to say, I was actually surprised at how good this was. I noticed this recipe in a Williams Sonoma cookbook last year and but had to wait until tomatoes were in season before I could make it.  Without a doubt, this was definitely worth the wait. The recipe itself is so simple – just tomatoes and a few other vegetables roasted until tender, blended together in the food processor and served over warm pasta. But don't let the simplicity of it fool you – this sauce is so full of flavor that I couldn't stop "taste-testing" it straight out of the pot.  Yes, it's that good. Even if you have a tried and true favorite pasta sauce (we did!), give this one a try.  I'm not convinced I'll ever go back to our previous favorite.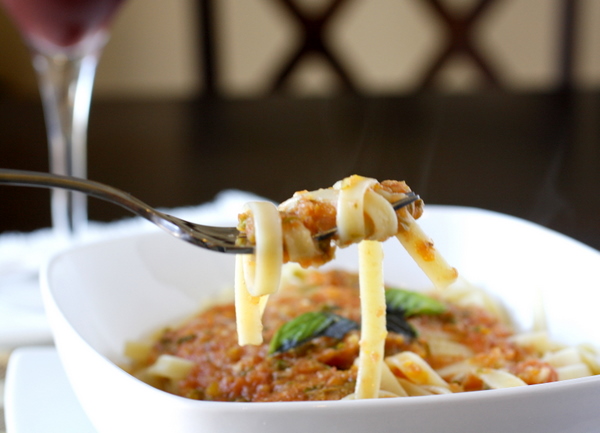 Fettuccine with Roasted Tomato Sauce
Ingredients:
2 red bell peppers, seeded and quartered
2 yellow onions, cut into wedges
3 lbs Roma tomatoes, halved lengthwise and seeded
2 heads garlic, halved lengthwise
1/4 cup olive oil
1 cup fresh basil, chopped
Salt and Pepper
1 lb Fettuccini
Directions:
Preheat the oven to 450. Place the peppers, onions, tomatoes and garlic on 2 rimmed baking sheets. Toss the vegetables with the olive oil and season with salt and pepper. Roast the vegetables until tender and golden, 30-35 minutes. Let cool until easy to handle.
Remove and discard the skins from the roasted peppers and tomatoes and transfer the flesh to the bowl of a food processor. Squeeze the roasted garlic from the cloves into the bowl and add the onions and basil. Pulse until coarsely chopped. Transfer to a saucepan and heat on low until heated through. Season with salt and pepper.
Bring a large pot of water to a boil and cook pasta according to package directions. Drain, reserving about 1/2 cup of the cooking water to thin out sauce if it is too thick. Serve pasta immediately, accompanied by the sauce.
from the Williams Sonoma Make Ahead cookbook