Asparagus and Cheese Tart
I've got another asparagus recipe for you! I can't believe I spent so many years not eating asparagus before I realized how good it is – now I'm obsessed! And this asparagus and cheese tart is definitely a fun way to eat it. This is a great recipe for people who aren't sure how they feel about asparagus. In the asparagus salad recipe I posted recently, asparagus is the star of the show, but in this recipe, I'm pretty sure the cheese is the star! The warm, melty cheese is delicious, and goes really well with the light and flaky crust, and of course the asparagus on top.  I was really happy with how this turned out – it looked impressive and tasted even better. Mike actually liked this recipe even more than I did, which was a pleasant surprise. Normally the veggie heavy recipes aren't really his favorite. I'm guessing the cheesy puff pastry made a big difference. 🙂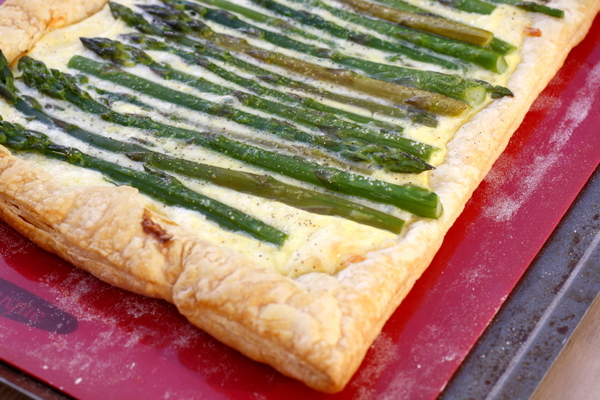 Asparagus and Cheese Tart
Ingredients:
1 pound asparagus, trimmed
1 sheet frozen puffed pastry, thawed
1 cup grated fontina cheese
1/2 cup grated parmesan cheese
1 Tbsp minced shallot
2 large egg yolks
3 Tbsp whole milk
1/8 tsp nutmeg
salt and pepper
2 tsp olive oil
1/2 tsp lemon zest
Directions:
Pre-heat the oven to 450.
Fill a large bowl with ice water. Bring about 1 inch of water to a boil in a large skillet. Add the asparagus; cook until bright green and crisp-tender, 2-5 minutes. Drain and transfer to the ice water to stop the cooking. Drain and pat dry.
Roll out the puff pastry into a 10x16 inch rectangle on a floured surface. Transfer to a parchment-lined baking sheet and prick all over with a fork. Bake until light golden brown, about 12 minutes. Let cool slightly on the baking sheet.
Meanwhile, mix the fontina, parmesan, shallot, egg yolks, milk, nutmeg and a pinch each of salt and pepper in a bowl until combined. Spread the cheese mixture evenly over the puff pastry, leaving a 1-inch border on all sides. Toss the asparagus with the olive oil, 1/4 tsp salt, and pepper to taste. Arrange the asparagus on the tart and bake until the cheese mixture is slightly puffy, 15-20 minutes. Sprinkle with the lemon zest. Serve warm or at room temperature.
from Food Network Magazine, April 2012