Copycat Starbucks Lemon Loaf
I have been wanting to try this copycat Starbucks lemon loaf for a long time, and I'm so glad I finally did! I made this for a Sunday school snack a few weeks ago, and let's just say that Mike was more than a little disappointed that there weren't any leftovers to bring home. 🙂 Believe it or not, I don't think I've actually ever tried the Starbucks lemon loaf before, so I can't speak to the authenticity of this recipe. However, I can tell you that it's absolutely delicious! The bread is very moist and tender and definitely tastes more like cake than a quick bread. The lemon glaze on top soaks into the bread and only adds to the deliciousness. Everyone who tried it loved this lemon loaf, and I hope you try it and love it as well. 🙂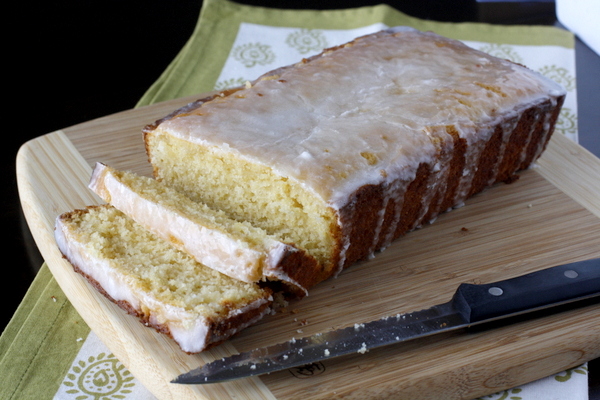 Copycat Starbucks Lemon Loaf
Ingredients:
1 1/2 cup flour
1/2 tsp baking powder
1/2 tsp baking soda
1/2 tsp salt
3 eggs at room temp.
1 cup sugar
2 Tbsp butter softened
1 tsp vanilla
2 tsp lemon extract
1/3 cup fresh lemon juice
1/2 cup oil
zest of one lemon
Glaze
1 cup powdered sugar
2 Tbsp milk
1/2 tsp lemon extract
juice of 1/4 lemon
Directions:
Preheat oven to 350. Grease a 9x5 loaf pan and set aside.
In a medium bowl, whisk together the flour, baking soda, baking powder and salt.
In a large bowl combine the sugar and lemon zest. Mix together with your fingertips until sugar is moist and fragrant. Using an electric mixer, beat in the butter until well blended. Add in the eggs, vanilla, lemon extract, and beat until combined, scraping the bowl as needed.
Pour dry .ingredients into wet ingredients and mix until smooth, scraping sides and bottom of bowl. Mix in the oil until well combined.
Pour into prepared loaf pan and bake for 45 min or until the top springs back when touched and a toothpick inserted in the center comes out clean or with moist crumbs attached. Remove from oven and let sit 5 minutes.
Meanwhile, prepare the glaze: Whisk all the ingredients until well combined. You want the glaze to be the consistency of honey, or a little thicker. You may need to add more powdered sugar or lemon juice to get the right consistency.
Remove bread from pan onto wire rack. Slowly spoon the glaze over the bread. Cool completely before cutting.