Whole Wheat Pumpkin Oat Muffins
Have you figured out by now that I love to make muffins? I love it even more now that Zeke is able to "help" me in the kitchen. Muffins (like these whole wheat pumpkin oat muffins!) are so easy to mix together, and Zeke loves dumping the various ingredients into the bowl and stirring it all up. And he especially loves to eat the end result. 🙂 I've made these whole wheat pumpkin oat muffins three times already this fall, and we all love them. I feel like they are somewhat healthy from the pumpkin and oats, and they taste delicious. There is plenty of cinnamon and maple syrup to bring out the fall flavor of the pumpkin, and the muffins have a nice light texture. This is one recipe I keep turning back to over and over again, and I'm guessing you will too!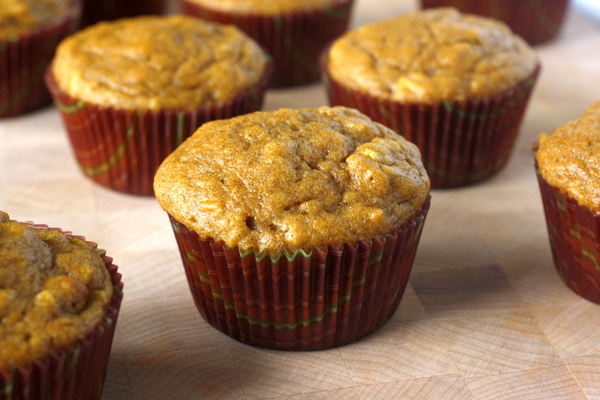 Whole Wheat Pumpkin Oat Muffins
Ingredients:
1/2 cup all-purpose flour
1/2 cup whole wheat flour
1/2 cup granulated sugar
1 tsp salt
1 tsp pumpkin pie spice
3/4 tsp baking powder
1/2 tsp baking soda
1/2 tsp ground cinnamon
1/2 tsp ground nutmeg
3/4 cup pumpkin puree
1/2 cup canola oil
1/2 cup milk
2 eggs, beaten
1/4 cup maple syrup
3/4 cup quick-cooking rolled oats
Directions:
Preheat oven to 375 degrees F. Line 12 muffin cups with paper liners.
In a large bowl, whisk together the all-purpose flour, whole wheat flour, sugar, salt, pumpkin pie spice, baking powder, baking soda, cinnamon, and nutmeg together. Stir the pumpkin puree, oil, milk, eggs, and maple syrup into the dry ingredients until just mixed, then stir in the oats. Scoop batter into prepared muffin cups, filling them about 2/3 full.
Bake in the preheated oven until a toothpick inserted into the center of a muffin comes out clean, 20 to 25 minutes. Let cool five minutes before removing muffins to a wire rack to cool completely.