Chocolate Banana Muffins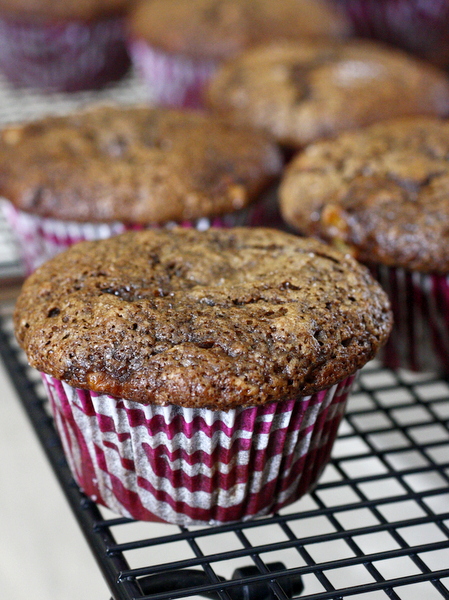 I love trying new muffin recipes, and I've had this recipe saved on my "recipes I can't wait to try" board on Pinterest for awhile now. I ended up making these to take to a friend who just had a baby, but of course I had to save a few for us to try as well. 🙂 And now I can't wait to make them again – they are so good! I should have made a double batch, because the few that I saved were gone way too soon. I love anything chocolate, and Mike tends to like any sort of muffin, so naturally these were a hit in our family. Even Zeke loved them, and for days was crying for "fuffins!!" for breakfast. The muffins are moist and perfectly chocolatey, and the sprinkling of sugar on top gives them a great crunchy topping. Plus, they are incredibly quick and easy t make. This is definitely a recipe you want to save for the future – everyone is sure to love them.
Chocolate Banana Muffins
Ingredients:
1 1/2 cups mashed bananas (about 3 bananas)
1/3 cup oil
1 egg
1 cup sugar
1 1/2 cups flour
1/4 cup cocoa powder
1 teaspoon baking soda
1/4 teaspoon baking powder
1 cup mini chocolate chips
Sugar for sprinkling on tops
Directions:
Preheat oven to 350 degrees.
In a large bowl, beat together the bananas, oil, and egg. In a separate bowl, whisk together the sugar, flour, cocoa, baking soda, and baking powder. Stir the dry ingredients into the banana mixture just until moistened, then stir in the chocolate chips. Spoon batter into greased or lined muffin tins and sprinkle the tops of each muffin with sugar.
Bake for 20 to 25 minutes, or until a toothpick inserted in a center muffin comes out clean.