Slow Cooker Chicken Tortilla Soup
It's finally starting to warm up here, but it's definitely still soup weather. We have soup at least once a week in the winter, and often I'm experimenting and trying new recipes. As soon as Mike tasted this slow cooker chicken tortilla soup he said "this is going on the blog, right?" I think that means it was a hit. 🙂
This recipe is truly "set it and forget it." You dump everything into the crock pot, turn it on, and come back at dinner time. Quickly shred the chicken, stir it all up, and you're good to go!  This is definitely a soup, not a chili, so don't be surprised at the amount of broth. You can always leave some out if you want your soup a little thicker.  The poblano peppers add a great taste, but if you can't find them, feel free to use green peppers, or even a jalapeno or serrano if you want a little extra spice. The soup has a great mild Mexican flavor, and even Zeke ate it by the spoonful. And of course, it doesn't get much better than melted cheese on top and tortilla chips on the side. We loved this soup and hope you do too!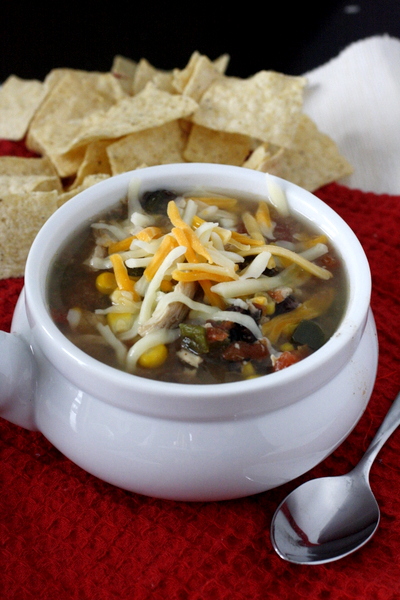 Slow Cooker Chicken Tortilla Soup
Ingredients:
1.5 lb chicken breast, trimmed
15oz can sweet whole corn kernels, drained
15 oz can black beans, drained and rised
15oz can diced tomatoes, drained
6 cups chicken stock
1 medium onion, chopped
2 poblano peppers, chopped
2 cloves garlic, minced
1/4 tsp chili powder
1 tsp salt
1/2 tsp ground pepper
shredded cheese, for topping
Directions:
Combine all ingredients in a large slow cooker.
Cook on low for 8 hours, or until chicken is cooked through.
Remove chicken to a plate and shred with two forks, then add back in to the slow cooker.
Serve with cheese on top and tortilla chips on the side.